SATAN HAS SOUGHT A ONE WORLD ORDER FOR 6,000 YEARS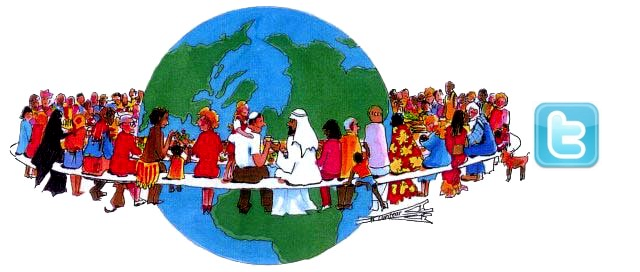 SATAN IS AN IMITATOR. HE HAS NO ABILITY TO CREATE ANYTHING. HIS EFFORT TO CREATE A WORLDWIDE KINGDOM PROVES THE PLAN OF OUR FATHER TO PROVIDE HIS SAINTS A "GOLDEN KINGDOM" TO COVER THE EARTH. It is amazing to look at history and document the Godless people that were determined to rule the world. Every one of those efforts was eventually cruel and wicked until they destroyed themselves. Nebuchadnezzar was one who was saved from destruction by the prophet of God named Daniel. The Persians, Greeks and Romans were noted kingdoms named in the Bible. From The Tower of Babel to the present there have been many noted examples. I named fifteen in this broadcast.
Hitler's master race was an utterly evil design both to rule the world and to eliminate God's chosen people whom God has promised will reign with Him. This was a master stroke by Lucifer which God judged with great fury. The Islamic religion is hell-bent on taking complete domination of all the earth and their hatred of Israel will be their utter disaster. Notice how every world-wide effort to establish a unified world is also deeply anti-Israel and anti-fundamentalism. The literal truths of the Scripture have to be denied.
It is very revealing that the two hallmarks of "One-World ism" is the greed to rule the world and to destroy or subjugate the nation of Israel. The Romans were never happy until Jerusalem lay in ruins, Babylon has always been in a contest against Jerusalem, and the heart of this city was seen in the "Tower of Babel." And they said, Go to, let us build us a city and a tower, whose top [may reach] unto heaven; and let us make us a name, lest we be scattered abroad upon the face of the whole earth." (Genesis 11:4) The spirit of the world is the exact opposite and always an imitation of God's plan.
I do not desire to be unkind to those whose doctrine is a rejection of the pre-millennial and pre-tribulational views, but it is impossible not to call their doctrines a Biblical error. When you study history it must be seen as His story. There is only one Holy Book which is absolute and only one God who is the Eternal Creator. Everything that departs from plain infallible truth will always be ruled by ideas opposite to literal truth. Actually Satan proves the truth every time, because he copies, distorts and imitates what God has promised. Satan has filled his every false idea with the opposite of truth. His undying effort to rule the world with systems and ideas of his own design have always proven the creative glory of God's prophetic revelation. There will be a "Golden Kingdom" and it will be ruled by God's own Son and His family of Jews and His glorified saints.
OUR GIFT IS A CD OR CASSETTE OF TODAY'S BROADCAST THAT YOU CAN SHARE OR STUDY ABOUT THE GREAT TRUTH OF THE GOLDEN KINGDOM OF ONE THOUSAND YEARS. Also, I will send a sermon entitled, "Born Again, An Overcomer". When we fully grasp the coming Kingdom of Jesus Christ on this earth with Satan in the bottomless pit we know why all hell hates the truth. Next Saturday we will continue to look at the Biblical teaching of this wonderful subject.
Call to order at 1-800-338-7884 or 704-391-0588. The e-mail address is secretary@pawcreek.org.