JOHN THE REVELATOR SAW THE SHEKINAH GLORY OF JESUS CHRIST
"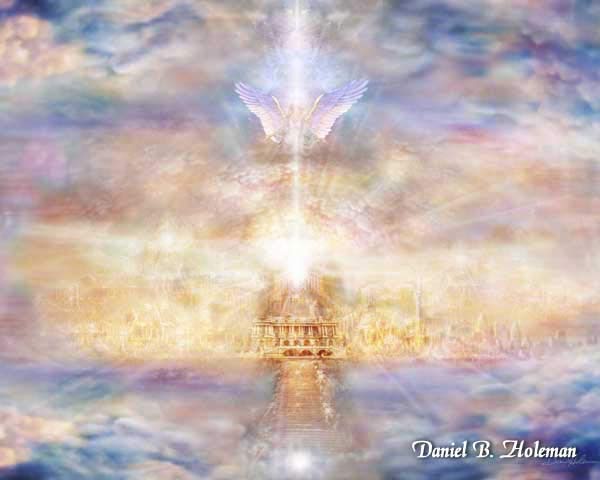 THE SHEKINAH GLORY OF JESUS CHRIST WAS SHOWN TO JOHN AS THE BOOK OF REVELATION WAS UNVEILED. This is how the Father begins the Divine disclosure of our future. The Book of Revelation is one Heavenly Drama after another, so that John could prophesy God's majestic plan. The breathtaking manner used in this last great revelation is perfect. A person must be spiritually blind to miss these great truths. What a person sees is many times more clearly understood than what they hear. Our Heavenly Father wanted His earthly family to live in hope and excitement as His purpose for us. The Book Of Revelation is the Masterpiece of Truth about the End of the Church's Dispensation.
At the very beginning of these visions the Father reveals the glorified sacrifice and exalted position of His Son in His Church. There can be no question of Whom this drama is revealing to us. It is The "Revelation Of Jesus Christ." This great masterpiece is from the Father, but the Father identifies His Son as His absolute sovereign authority in every majestic scene. The Father has given all authority and power to His Son and His Son holds center stage until this entire plan is executed. The Father, by John, said, "And from Jesus Christ, who is the faithful witness, and the first begotten of the dead, and the prince of the kings of the earth. Unto him that loved us, and washed us from our sins in his own blood…" (Revelation 1:5)
Without the omnipotent power of this exalted Redeemer, the scenes of this Book would be impossible. Knowing that, our God has given all power in heaven and earth to Jesus Christ which guarantees a perfect fulfillment. Nothing can fail because He cannot fail. He created this universe and is the Lord of Sabaoth (The Host Of Angels). His foot is on Satan's neck and the final moment of total redemption is written in this Book of Apocalypse. Satan does not have the power or authority to resist.
John does not just hear the words about His glory but sees it in a manifestation like Moses saw in the Tabernacle or what Solomon saw in the Golden Temple. As this Shekinah is revealed, John is on his face like a dead man. The word Shekinah has been raped today by the New Age world and religious confusion. It's nothing but an esoteric deception when the world and religious deceivers try to imitate it for their own gain.
"Zondervan's Pictorial Bible Dictionary," describes this word beautifully. "Shekinah: (Hebrew, shekhinah, dwelling of God), a word, though not occurring in the Bible, that is employed by some Jews and by Christians to describe the visible presence of Jehovah. It is alluded to in such places as Isaiah 60:2, by the phrase "his glory" and in Romans 9:4 by the phrase "the glory." Moses calls this the "cloud", in Exodus 14:19. It's first appearance occurred for a twofold purpose when Israel was being led by Moses out of Egypt. It hid the Israelites from the pursuing Egyptians and lighted the way at night for Israel (Exodus 13:21; 14:19-20). To the Egyptians it was a cloud of darkness, but to Israel a cloud of light. It later covered Sinai when God spoke with Moses (Exodus 24:15-18), filled the tabernacle, (Exodus 40:34:35), guided Israel, (Exodus 40:36-38) filled Solomon's temple, (II Chronicles 7:1) and was frequently seen in connection with Christ's ministry in the New Testament (Matthew 17:5; Acts 1:9)." (ZPBD, Seventh edition, 1967, page 782) The real truth of God's Shekinah is overwhelming while the fake is dangerous.
This word, "Shekinah," is a word to express "The manifest presence of the Father, the Son or the Holy Spirit." Moses' face was so brilliant when he had seen this Shekinah of God that it had to be covered in the presence of his fellow Jews. At Pentecost the Manifest Presence was in a sound from heaven like a mighty rushing wind and tongues of fire sitting on every one of them. When Jesus was transfigured on the mountain before three of His disciples this Shekinah was overwhelming. "And after six days Jesus taketh Peter, James, and John his brother, and bringeth them up into an high mountain apart, And was transfigured before them: and his face did shine as the sun, and his raiment was white as the light." (Matthew 17:1-2)
Now John the Beloved is about to see this manifest glory of the Lord. He said, "I was in the Spirit on the Lord's day, and heard behind me a great voice, as of a trumpet, Saying, I am Alpha and Omega, the first and the last: and, What thou seest, write in a book, and send it unto the seven churches which are in Asia; unto Ephesus, and unto Smyrna, and unto Pergamos, and unto Thyatira, and unto Sardis, and unto Philadelphia, and unto Laodicea. And I turned to see the voice that spake with me. And being turned, I saw seven golden candlesticks…" (Revelation 1:10-12)
The location of this vision in the Book of Revelation was in the midst of the Seven Churches to whom He would write the seven last letters. John sees the passion of Christ for His Church by walking up and down in the midst of them. In every great revival which has awakened many to Christ, His presence has been either visibly felt or seen. This is not just a drama of what is to be that starts with Chapter Four. This is a picture of what is given presently to the Church dispensation. What a pitiful picture of the Church we are today. But the drama continues. "And in the midst of the seven candlesticks one like unto the Son of man, clothed with a garment down to the foot, and girt about the paps with a golden girdle." (Revelation 1:13)
This present Lord not only walks in the Church's midst, but He is their High Priest. His appearance loudly proclaims His position to plead and represent our cause before our Father. It is not the priesthood of Moses but the priesthood of Melchisedec. John understood the marking of His Eternal Priesthood by His Priestly Attire. That Priestly Office has continued from that day until the present and will continue until He calls us to His literal Presence.
The "Ancient of Days" is a Biblical title of our Lord, and John sees this transcendent rendering of His Eternal Person. "His head and his hairs were white like wool, as white as snow; and his eyes were as a flame of fire…" (Revelation 1:14) This is Alpha and Omega, the beginning and the ending, who is, who was and who is to come. He is beyond human comprehension and John is speechless. Oh that men might tremble at the mention of His Name.
Even from His feet to His voice there is a picture of all His sovereign glory. He has walked the fiery altar of the Heavenly Temple and now to walk in His Church is to leave footprints of Holy Ghost fire. His voice has the sound of triumph and when He speaks it is like Heaven to the soul. Everything of His appearance is His picture of action intended in the House of God. Divine footprints and the voice of mastery are clearly two of man's greatest expressions of authority. He is the Master of both.
The closing scene is to see His anointed ministers in His right hand and to see His words out of His mouth as the weapon of victory in the minister's hands. We overcome by His Words and there is no substitute. "And he had in his right hand seven stars: and out of his mouth went a sharp two-edged sword: and his countenance was as the sun shineth in his strength." (Revelation 1:16) This is a testimony of the infallible Scripture and its authority to triumph over every power of evil.
As John beheld this celestial scene he falls on his face. John was truly a Holy man, sanctified and set apart and yet he was overcome with the Shekinah glory. This generation refuses this Book because their carnal lives cannot bear it. John spoke of himself. And when I saw him, I fell at his feet as dead. And he laid his right hand upon me, saying unto me, "Fear not; I am the first and the last: I am he that liveth, and was dead; and, behold, I am alive for evermore, Amen; and have the keys of hell and of death." (Revelation 1:17-18)
The Lord of this majestic revelation is still available for His saints to enter the Holy of Holies. He invites us in this last generation to return to His glory with a life of total surrender. "But if the ministration of death, written and engraven in stones, was glorious, so that the children of Israel could not steadfastly behold the face of Moses for the glory of his countenance; which glory was to be done away: How shall not the ministration of the Spirit be rather glorious?" (II Corinthians 3:7-8) We must exalt this Matchless Christ and live in His Shekinah Glory until He is so visible that men tremble at the mere mention of His Name.
This series of Salty Saints and Prophetic News Alerts combined will be on the front of the Home Page shortly. I expect approximately fifty when I'm finished. I have been overwhelmed to see that Revelation is one great picture of God's revelation one after another. What absolute proof of its literalness. Please order a free copy of the first four, and sign up on our E-mail list to automatically receive these inspiriting truths. Our book "The Masterpiece" would greatly aid you in studying. We also have a professional set of verse by verse teaching on DVDs OR CDs on the entire 22 Chapters of Revelation. (24 DVDS or CDs in two beautiful albums)