IT'S LATER THAN YOU THINK: "Reviewing Eight Facts About Life After the Rapture"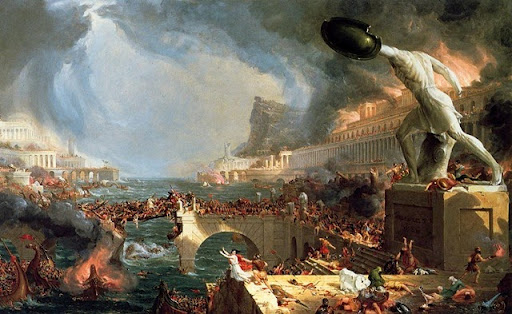 "SUDDEN DESTRUCTION" is going to be the order of daily life after the Rapture. The Holy Ghost spoke by Apostle Peter with a faithful warning to this church world. "But of the times and the seasons, brethren, ye have no need that I write unto you. For yourselves know perfectly that the day of the Lord so cometh as a thief in the night. For when they shall say, Peace and safety; then sudden destruction cometh upon them, as travail upon a woman with child; and they shall not escape. But ye, brethren, are not in darkness, that that day should overtake you as a thief." (I Thessalonians 5:1-4)
Our world has been so duped by the devil that these great truths are mostly lost to the multitudes. Where are the preachers that are willing to preach like a dying man to a lost world? Let me list for you again these coming dark scenarios. They were poured into my heart by the Holy Ghost.
1. Prepare your mind to deal mentally with absolute darkness from the Spirit realm.
2. Prepare to pray with no great emotional relief.
3. Get prepared to endure hunger and thirst to the point of starvation.
4. Get ready to suffer the ravaging of your life from those old friends and family members that will be ashamed of your commitment to Jesus Christ.
5. Prepare for attacks of fear that will be relentless and devastating.
6. Prepare for grotesque creatures out of hell attacking, mutilating and tormenting you.
7. Be prepared for a World Health system so overloaded and inadequate as to be helpless.
8. Prepare for death and murder, rape and molestation, the absence of police protection and mobs of mindless people driven crazy by the out of control world.
VERY IMPORTANT! THIS SERMON IS AVAILABLE BOTH ON "CD" OR "DVD" AND CAN BE ORDERED FOR DISTRIBUTION. YOU MAY CLICK BELOW TO LISTEN OR COPY AT YOUR OWN INTEREST.
The Word of God is absolute and when we read these warnings we must take them seriously. When Jesus dictated the last seven letters to His church, He concluded with the letter to Laodicea. These are His words: "I know thy works, that thou art neither cold nor hot: I would thou wert cold or hot. So then because thou art lukewarm, and neither cold nor hot, I will spue thee out of my mouth. Because thou sayest, I am rich, and increased with goods, and have need of nothing; and knowest not that thou art wretched, and miserable, and poor, and blind, and naked: I counsel thee to buy of me gold tried in the fire, that thou mayest be rich; and white raiment, that thou mayest be clothed, and that the shame of thy nakedness do not appear; and anoint thine eyes with eyesalve, that thou mayest see. As many as I love, I rebuke and chasten: be zealous therefore, and repent. Behold, I stand at the door, and knock: if any man hear my voice, and open the door, I will come in to him, and will sup with him, and he with me. To him that overcometh will I grant to sit with me in my throne, even as I also overcame, and am set down with my Father in his throne." (Revelation 3:15-21)
This crowd of lukewarm church members of which many have never been truly "Born Again" were "spued out of His mouth." Some believe that, if they were once saved they will still go in the Rapture but why take that chance? It's better to fall on your knees and get thoroughly right with God. Pray until the witness of the Holy Spirit inspires your soul with fresh fire from His altar and you will know you are ready.
Let's use these dark truths of what is about to happen to warn everyone we know. This material is yours to use as your own. I want to see a multitude get ready for the Rapture. The command of the Lord is that we warn every soul about God's awesome judgement soon to come. "Yet if thou warn the wicked, and he turn not from his wickedness, nor from his wicked way, he shall die in his iniquity; but thou hast delivered thy soul." (Ezekiel 3:19) We also must warn the righteous to be faithful in righteousness. "Nevertheless if thou warn the righteous man, that the righteous sin not, and he doth not sin, he shall surely live, because he is warned; also thou hast delivered thy soul." {Ezekial 3:21)