WARRIOR ANGELS, DEFEATING EVIL SPIRITS AND CASTING THEM INTO THE LAKE OF FIRE.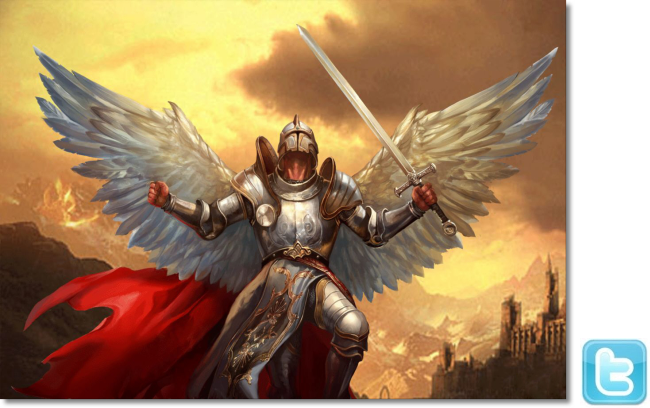 THE MIGHTY ANGELS OF THE LORD ARE NOT TO BE TAMPERED WITH. They are far superior to you and I, but they can also defeat Satan and his corrupt angels. One Cherubim could easily defeat a ten-thousand man army. The Assyrian army was an awesome fighting force. Yet, when they encamped against Jerusalem under their King Sennacherib, the Angels slew 185,000 in one night. Time and again God has broken the powers of mighty armies with one or more of His Host of Angels. When America was a Godly nation, God performed many miracles to protect us from pagan countries and their incredible armies. I'm sure you have read or remember Germany and Japan.
One of the greatest stories in God's infallible Word was the experience of Elisha in Dothan. The army of Syria was warring with Israel and God was using Elisha to warn Israel's king of the whereabouts of the Syrian army. The servant of Syria's king told him of this man of God. "And one of his servants said, None, my lord, O king: but Elisha, the prophet that is in Israel, telleth the king of Israel the words that thou speakest in thy bedchamber. And he said, Go and spy where he is, that I may send and fetch him. And it was told him, saying, Behold, he is in Dothan." (II Kings 6:12-13) What a picture of the wonderful ways Israel's God took care of them.
The Syrian king sent his army after the prophet. That was certainly a dumb move. "Therefore sent he thither horses, and chariots, and a great host: and they came by night, and compassed the city about. And when the servant of the man of God was risen early, and gone forth, behold, an host compassed the city both with horses and chariots. And his servant said unto him, Alas, my master! how shall we do?" (II Kings 6:14-15) This would appear to have been the end of Elisha. No prophet with one servant would have a chance against an army.
God's man was well equipped with Angels so he had no fear. Elisha spoke words of faith just like we need to learn. "And he answered, Fear not: for they that be with us are more than they that be with them. And Elisha prayed, and said, LORD, I pray thee, open his eyes, that he may see. And the LORD opened the eyes of the young man; and he saw: and, behold, the mountain was full of horses and chariots of fire round about Elisha." (II Kings 6: 16-17) Heaven still has this army and they belong to us. Heavenly horses and chariots has got to paint a breathtaking picture.
We must learn to trust in God's Great Warriors in our fight against the armies of Satan. This is available today just as much as in the Old Testament. Why in the world would we relegate Angels to the First Testament more than the New Testament? The Disciples of the Lord surely did not. The story of Paul being taken to Rome as a prisoner is a fabulous assurance for us today. This great Apostle was a single believer on a ship with 275 people. The storm had raged for days and hope of rescue was gone. Consider how you would survive on this ship and then learn the lesson of Biblical truth.
Apostle Paul got alone with God and the Lord appeared to save the Apostle and the 275 souls facing a Christless death. "And now I exhort you to be of good cheer: for there shall be no loss of any man's life among you, but of the ship. For there stood by me this night the angel of God, whose I am, and whom I serve, Saying, Fear not, Paul; thou must be brought before Caesar: and, lo, God hath given thee all them that sail with thee. Wherefore, sirs, be of good cheer: for I believe God, that it shall be even as it was told me." (Acts 27: 22-25) This is our story from our Covenant called "The New Testament." It's thrilling to see the results of the Angels delivering one man of God and a bunch of criminals and hard nose sailors. Consider how many souls were probably converted counting natives on the island, the crew and souls on the ship. We will see a revival when these types of miracles begin to occur in our churches.
Every story we see of dark events where many are being killed and slaughtered, Satan is involved with his fallen spirit. Every church war or fuss among the saints are the activities of evil. Demons are active on the earth and in the heavens above us. We have got to learn that our fight is not against flesh and blood. "For we wrestle not against flesh and blood, but against principalities, against powers, against the rulers of the darkness of this world, against spiritual wickedness in high places." (Ephesians 6:12) Most Church battles are flesh battles and nobody wins. I have seen my share and they are terrible. God has given us a better way. There is always a strong man (a demon possessed person) that is leading the charge. That person and the spirit in control of them has got to be bound. We cannot bind them in our flesh. "Or else how can one enter into a strong man's house, and spoil his goods, except he first bind the strong man? and then he will spoil his house." (Matthew 12:29)
This is the kind of battles raging everywhere and here is Apostle Paul's words by the Holy Ghost. "For though we walk in the flesh, we do not war after the flesh: (For the weapons of our warfare are not carnal, but mighty through God to the pulling down of strong holds;) Casting down imaginations, and every high thing that exalteth itself against the knowledge of God, and bringing into captivity every thought to the obedience of Christ…" (II Corinthians 10: 3-5) This kind of warfare demands saints full of the Holy Ghost and praying in the power of the Holy Ghost. Slowly God has been teaching me how to stay on my face until the Holy Ghost comes with great power and then reaches beyond me to pull down the strongholds. There is no power like the Host of the Heavens and the Mighty Person, the third member of the Trinity Of God that has come to possess the available saints.
OUR GIFT FOR THIS WEEK IS "ANGELS OVERSHADOWING JERUSALEM" We are preparing a notebook entitled, "THE INVISIBLE REALM: HOLY ANGELS AND UNHOLY ANGELS". This is a comprehensive study of this subject like I have always wanted for myself. THIS WILL GIVE YOU A BIBLICAL PICTURE OF THE WARFARE WE FACE IN THE SPIRITUAL WORLD THAT IS DEFEATING MOST OF THE CHURCH WORLD. It will be done in full color and will be about 150 pages. Everything we do is fully guaranteed with our money back promise. We are here to bless, not make money. The notebook will be sent immediately with the first stage, then we'll follow with the additional pages. (Notebook $29.95, Email without notebook cover $15.00) Call 1 800 338 7884 or 1 704 391 0588. Email us at secretary@pawcreek.org. This is many hours of research and writing so please pray for me.