JOHN THE REVELATOR SAW THE RIVER OF "GRACE"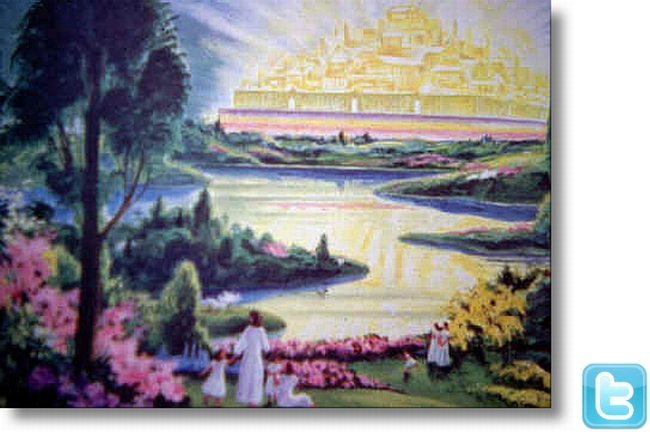 A RIVER OF GRACE FROM BEGINNING TO END: "THAT'S THE MASTERPIECE OF THE BOOK OF REVELATION." Any view of this book that dwells on calamity, sorrows, or only the coming judgments is woefully wrong. The mighty power of the Blood and the Holy Ghost is like a river that is at flood stage throughout this incredible book. God's wonderful grace and power is always like a giant reservoir where a dynamo of electrical current is created. This reservoir of water must have a constant flow or very shortly the electrical current would cease. Our lives are exactly like that reservoir. Unless God's power is flowing we will soon be an empty vessel. It takes consecration and a strong prayer life to be a powerful and victorious saint. It's not you, it's Him in you.
I love the idea of this "Holy Ghost River" at flood stage. With a little imagination you can see a flood of waters carrying all within its bounds downstream and rushing toward the open sea. That's the picture I want you to see of the grace of God flooding your soul. This is evident in the Book of Revelation. John said it like this. "And from Jesus Christ, who is the faithful witness, and the first begotten of the dead, and the prince of the kings of the earth. Unto him that loved us, and washed us from our sins in his own blood, And hath made us kings and priests unto God and his Father; to him be glory and dominion for ever and ever. Amen." (Revelation 1:5-6) Spirit filled saints change the climate wherever they shine. They are like a river that has overflowed its banks.
The Masterpiece we call "The Apocalypse" has every great truth in the Bible revealed in a drama of reality. You can name any doctrine of Biblical truth and find it in a living form in this Book. I have challenged Bible students at Prophesy Conferences to name any doctrine in the Bible and I will show it to them in the Book of Revelation. Yet many in our church world still ignore this great revelation. There cannot be but one reason to reject this book. It is the rejection of the pre-Tribulation Rapture and the two doctrines of "The Great Tribulation" and "The Millennial Reign of Jesus Christ in Jerusalem."
This 'River of Grace' begins in the text I quoted above and flows straight through this Masterpiece. It does not end until it flows out of "New Jerusalem" with the "Tree of Life" lining its banks. "And he shewed me a pure river of water of life, clear as crystal, proceeding out of the throne of God and of the Lamb. In the midst of the street of it, and on either side of the river, was there the tree of life, which bare twelve manner of fruits, and yielded her fruit every month: and the leaves of the tree were for the healing of the nations. And there shall be no more curse: but the throne of God and of the Lamb shall be in it; and his servants shall serve him:…" (Revelation 22:1-3) The Father never intended for one of His saints to fail to be a "River Of Grace" full of life. We can have this River before we enter that "Grand City Of New Jerusalem".
Grace is one of the most powerful subjects in the Bible. The Great Seven Year Tribulation only makes Grace more beautiful. Grace is going to clean up this universe and turn it into a Gorgeous Garden. Look at the multitudinous throng of Tribulation saints that are purified by the Tribulation they have faced. "These are they which came out of great tribulation, and have washed their robes, and made them white in the blood of the Lamb. Therefore are they before the throne of God, and serve him day and night in his temple: and he that sitteth on the throne shall dwell among them." (Revelation 7:14-15) There is not one place in Scripture to find grace more breathtaking than in this "Apocalypse Book".
Paul the Apostle spoke of this "River" and named its source. "But if the Spirit of him that raised up Jesus from the dead dwell in you, he that raised up Christ from the dead shall also quicken your mortal bodies by his Spirit that dwelleth in you." (Romans 8:11) Jesus Christ and His Holy Spirit cannot be separated in New Testament living. Jesus Christ had said of His Spirit, "If ye shall ask any thing in my name, I will do it. If ye love me, keep my commandments. And I will pray the Father, and he shall give you another Comforter, that he may abide with you for ever; Even the Spirit of truth; whom the world cannot receive, because it seeth him not, neither knoweth him: but ye know him; for he dwelleth with you, and shall be in you." (John 14:14-17)
The Son of God added even more wonderful reality to the coming of the Holy Ghost into your life. "But the Comforter, which is the Holy Ghost, whom the Father will send in my name, he shall teach you all things, and bring all things to your remembrance, whatsoever I have said unto you. Peace I leave with you, my peace I give unto you: not as the world giveth, give I unto you. Let not your heart be troubled, neither let it be afraid." (John 14:26-27) "But when the Comforter is come, whom I will send unto you from the Father, even the Spirit of truth, which proceedeth from the Father, he shall testify of me." (John 15: 26) Rejecting the mighty powers of the Holy Ghost is a sad reality in most churches. Pastors want nothing in the church they cannot control. The sad truth for them is there will be nothing, because His Holy Spirit is like a river that has left it's banks. God's Holy Spirit is indeed a "River of Life." He is a perfect Gentleman and never forces us to be a robot. He must have our permission and faith for His great manifestation and then He will carry us away in a life of joy and victory.
The great prophet Isaiah said it well as he spoke by the Holy Spirit. "So shall they fear the name of the LORD from the west, and his glory from the rising of the sun. When the enemy shall come in like a flood, the Spirit of the LORD shall lift up a standard against him." (Isaiah 59:19) You can have a life in Christ that is full of joy and victory. The Holy Spirit is the Spirit of the Father and of the Son and He brings to us all that they represent. If you live a life of defeat you live like a pauper, not a believer. Read the "Book Of Revelation" and watch every verse for a picture of the wonderful "Grace Of Jesus Christ".
OUR GIFT FOR THIS WEEK IS "JOHN THE REVELATOR SAW A MULTITUDE OF ANGEL AND CHERUBIMS" We are preparing a notebook entitled, "THE INVISIBLE REALM: HOLY ANGELS AND UNHOLY ANGELS". This is a comprehensive study of this subject like I have always wanted for myself. THIS WILL GIVE YOU A BIBLICAL PICTURE OF THE WARFARE WE FACE IN THE SPIRITUAL WORLD THAT IS DEFEATING MOST OF THE CHURCH WORLD. It will be done in full color and will be about 150 pages. Everything we do is fully guaranteed with our money back promise. We are here to bless, not make money. The notebook will be sent immediately with the first stage, then we'll follow with the additional pages. (Notebook $29.95, Email without notebook cover $15.00) Call 1 800 338 7884 or 1 704 391 0588. Email us at secretary@pawcreek.org. This is many hours of research and writing so please pray for me.