THREE STEPS TO GLORY: JUSTIFICATION, SANCTIFICATION AND GLORIFICATION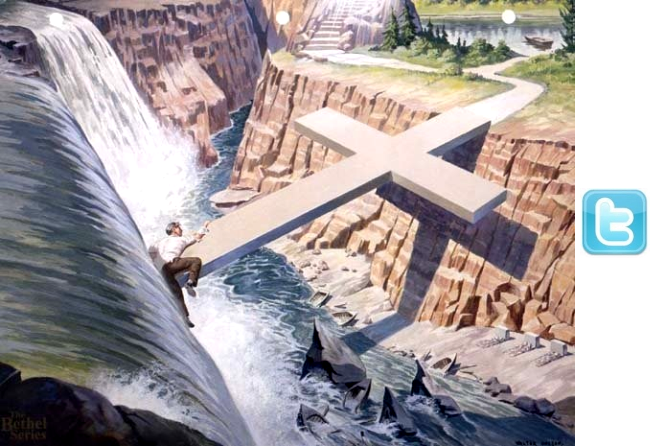 THERE IS A DESPERATE FAMINE FOR THE WORD OF GOD IN TODAY'S CHURCH. People are actually being taught that academic faith without any conviction of sin can save them. The great truth of "Justification by Faith" has become "Religion by Rock," and I do not mean "The Rock of Ages." The Bible proudly declares "God hath chosen by the foolishness of preaching to save them that believe." It still takes an old fashioned anointing by the Holy Ghost to bring sinners to transforming faith. A religious conversion without the cleansing power of Christ's Blood and the authority of the Spirit is like a still-born birth. There is no life, just death.
A Born-Again person is immediately a fool for Christ. "Justification" is the Biblical word for a saving experience. Not one righteous deed is required for Jesus Christ to justify a repentant sinner. When you come to Christ, all you need is empty hands. If there is one word of boasting about what you deserve, you are disqualified. Justification is one of the Bible's most powerful truths. This is why Jesus Christ died on the Cross. It was to take your place and become the Father's whipping post. The Father crucified His Son so you could be free of your sins. Jesus' death was vicarious. He was declared guilty of your sins. It was the Father that made that decision and gave His Son as our sacrifice.
A justified soul is free of guilt, utterly and totally. It is though they never sinned. The joy that floods a newly justified person is heavenly. You almost need to hold them back so they do not get raptured. The Roman's Road says, "Therefore being justified by faith, we have peace with God through our Lord Jesus Christ: By whom also we have access by faith into this grace wherein we stand, and rejoice in hope of the glory of God. And hope maketh not ashamed; because the love of God is shed abroad in our hearts by the Holy Ghost which is given unto us." (Romans 5:1-2, 5) The guilt of sin is one of the strongest negatives in Holy Scripture. It breaks the human spirit, depresses natural joys, and it renders the sinner a burdened, debilitated soul and spirit. It's living death, but Justification, dissipates every ounce of this heaviness and spiritual death. A justified soul is as free as the birds.
Sanctification should occur almost immediately following justification, and would if our ministers would preach it as they should. The same blood that justifies, also sanctifies. A saved soul is now without guilt and overwhelmed with joy. That joy will never be lost if the justified soul follows on after the sanctified life. Apostle Paul warned the Thessalonians to go forward after this work of grace. He said, "Quench not the Spirit. Despise not prophesying. Prove all things; hold fast that which is good. Abstain from all appearance of evil. And the very God of peace sanctify you wholly; and I pray God your whole spirit and soul and body be preserved blameless unto the coming of our Lord Jesus Christ. Faithful is he that calleth you, who also will do it." (I Thessalonians 5:19-24)
The Son of God left no doubt that He has provided for us to be free from the powers of the world by being sanctified. "I pray not that thou shouldest take them out of the world, but that thou shouldest keep them from the evil. They are not of the world, even as I am not of the world. Sanctify them through thy truth: thy word is truth." (St. John 17: 15-17) Every "Born-Again" or "Justified" person needs to continue on in God's grace and be free from the control of the Adamic nature. Yes, we will be taunted by that old nature until we are glorified at the coming of Christ, but we will win if we keep the body under Sanctifying Blood. The great Apostle said it best. "But I keep under my body, and bring it into subjection: lest that by any means, when I have preached to others, I myself should be a castaway." (I Corinthians 9:27) The Christian life is joy unspeakable and full of glory.