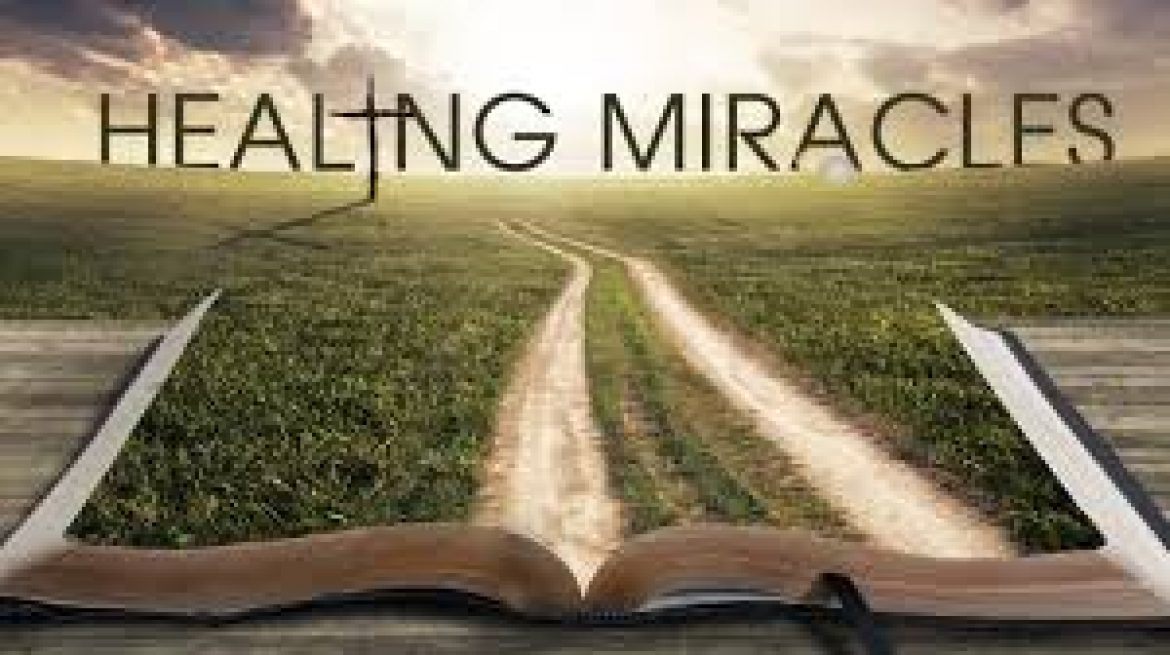 The Time for Miracles: Again
Our God is supernatural and He cannot act otherwise. If He reveals Himself it will be supernatural. We can only move in the natural realm until God acts on our part. I was going blind without major eye surgery and that may have failed. But God moved on my part and now my eyes are improving every day. The stripes on Christ's body were divine in accomplishment redemption. Those strips now heal.
     One of Apostle Paul's greatest statements is found in his first letter to Corinth.  He said, "But the natural man receiveth not the things of the Spirit of God: for they are foolishness unto him: neither can he know them, because they are spiritually discerned"  (1 Corinthians 2:14).  Here lies the difference between a New Testament church and a social club of religious people.  All the human activities of the true church exist in most religious clubs.  Even this may be fringed in many present day situations and is called by the Scripture, "lying wonders."  The undiscerning that fills most of today's churches cannot tell the difference.
    There is a world of difference between the realm of the natural and the realm of the supernatural.  Both worlds are real and each has its distinct place.  We will live as natural men in this life, always dealing with the arm of flesh, and must never forget that we are earthen vessels.  "But we have this treasure in earthen vessels, that the excellency of the power may be of God, and not of us" (2 Corinthians 4:7).  Holy Spirit filled believers are to live with great unction and anointing from God upon their life but always remembering to "have no confidence in the flesh."  (Philippians 3:3)  It's beautiful to see that the New Testament Christian is to enjoy the natural world of family and creation while living in the supernatural world of Holy Scripture and spiritual power.  We have a promise of the best of both worlds, with persecution, and eternal life to come.
Divine Healing
    Divine healing is one of the most exciting areas of supernatural authority available to the church.  As we discuss this Biblical truth it is important that we don't make it a contest between divine healing and medical science.  The medical profession in most cases is the application of man's best efforts for his own physical good.  It's the world providing its own people with applied techniques of healing.  These efforts are always dependent upon the natural healing created in our bodies by the Heavenly Father.  Natural healing varies in each person because sin has left a malady of death at work in every human being.  We were once perfect specimens (before sin entered by Adam) without sin or disease, but are now sinful creatures in the process of a deadly destruction.  No one should belittle honest doctors and hospitals who dedicated themselves for the good of community.  We should be careful about some methods of healing, such as psychiatry, etc., or an undue dependence on prescription drugs.
    While the medical profession is the "worlds" best answer to disease and sickness, the children of God have something far superior.  The first explicit promise of divine healing was spoken to Moses in connection with the ten commandments and other specific directions for their lives.  If they would live by these commandments and statutes,  He promised they would be healed of sicknesses and diseases.  He also promised fullness of days and prosperity for their labor.  "And said, If thou wilt diligently hearken to the voice of the LORD thy God, and wilt do that which is right in his sight, and wilt give ear to his commandments, and keep all his statutes, I will put none of these diseases upon thee, which I have brought upon the Egyptians: for I am the LORD that healeth thee" (Exodus 15:26).  "And ye shall serve the LORD your God, and he shall bless thy bread, and thy water; and I will take sickness away from the midst of thee. There shall nothing cast their young, nor be barren, in thy land: the number of thy days I will fulfil" (Exodus 23:25-26).  This principle and promise of healing has never been repealed in the exact same manner as the ten commandments have not been eliminated.
Our Natural World
    We will contend with the limitations of our natural worlds as long as we are in this body.  It behooves us to learn both its principles and weaknesses.  Our flesh was shapen in iniquity.  It takes absolutely no effort  on our part to follow the flesh life and obey the laws of sin.  We naturally live by the emotions of our flesh unless we have determined to obey a higher set of laws.  This is why you don't need to teach immorality to your children but you had better teach them morality.
    The body is subject to disease and physical infirmities.  We may have different levels of tolerance for certain pestilences or germs, but all of us at some point fall prey t these invasions.  Individuals with a positive mental attitude usually have more resistance to disease.  When someone tries to teach health by positive thinking they are using one of God's natural laws, although that law by itself is only weakly helpful.  It must be understood and applied in complete harmony with His spiritual truths to reach the level He designed.  At some point the positive thinking idea will be cancelled by the stronger laws of sin and death.
    Apostle Paul dealt with the natural laws of man and sin more fully than other Biblical writers.  To the Romans he spoke eloquently of their limitations and the end results.  "For to be carnally minded is death; but to be spiritually minded is life and peace. Because the carnal mind is enmity against God: for it is not subject to the law of God, neither indeed can be. So then they that are in the flesh cannot please God"  (Romans 8:6-8).  The best man with strong and good desires is still a natural man with undeniable weaknesses until he meets God's world of the supernatural through the person of Jesus Christ.
The Supernatural World
    The flesh is always progressing toward death.  The natural laws of life have become subject to the law of sin and the only way that can be changed is by the higher law of the supernatural kingdom of God.  Apostle Paul said, "For the wisdom of this world is foolishness with God. For it is written, He taketh the wise in their own craftiness" (1 Corinthians 3:19).  The Psalmist David spoke richly of the nature of the supernatural world that the Believer can enter into by faith.
    "He that dwelleth in the secret place of the most High shall abide under the shadow of the Almighty. I will say of the LORD, He is my refuge and my fortress: my God; in him will I trust. Surely he shall deliver thee from the snare of the fowler, and from the noisome pestilence. He shall cover thee with his feathers, and under his wings shalt thou trust: his truth shall be thy shield and buckler. Thou shalt not be afraid for the terror by night; nor for the arrow that flieth by day; Nor for the pestilence that walketh in darkness; nor for the destruction that wasteth at noonday. A thousand shall fall at thy side, and ten thousand at thy right hand; but it shall not come nigh thee. Only with thine eyes shalt thou behold and see the reward of the wicked. Because thou hast made the LORD, which is my refuge, even the most High, thy habitation; There shall no evil befall thee, neither shall any plague come nigh thy dwelling. For he shall give his angels charge over thee, to keep thee in all thy ways. They shall bear thee up in their hands, lest thou dash thy foot against a stone. Thou shalt tread upon the lion and adder: the young lion and the dragon shalt thou trample under feet. Because he hath set his love upon me, therefore will I deliver him: I will set him on high, because he hath known my name. He shall call upon me, and I will answer him: I will be with him in trouble; I will deliver him, and honour him. With long life will I satisfy him, and shew him my salvation" (Psalms 91:1-16).  Everything a Believer needs to live a triumphant life over our natural enemies of destruction is promised in the above chapter.  He concludes this great thesis by adding long life and deliverance.
    There will not be a revival of the supernatural power of God and divine miracles of healing until we return to the spiritual life.  The atmosphere of a Biblical church must be ruled by total dependency on God.  Paul gave testimony to that very attitude in his ministry.
    "And I, brethren, when I came to you, came not with excellency of speech or of wisdom, declaring unto you the testimony of God. For I determined not to know any thing among you, save Jesus Christ, and him crucified. And I was with you in weakness, and in fear, and in much trembling. And my speech and my preaching was not with enticing words of man's wisdom, but in demonstration of the Spirit and of power: That your faith should not stand in the wisdom of men, but in the power of God" (1 Corinthians 2:1-5).
    In this realm there exists no impossibilities.  The church life should be controlled by the supernatural.  It is natural for Christ's kingdom to be a place of supernatural happenings.  We have become so fixed in our natural limitations that anything supernatural is unordinary.  Most churches and Christians no longer expect miracles.  When there is trouble, sickness or any great need, we immediately seek the resources of the natural world.  We sometimes will say, if God pleases, He could give a miracle; when the truth is clear, He already wants to give a miracle if we would seek Him instead of our own resources.
Two Sources Of Physical Infirmities
    Even in the world of physical sicknesses, there also exists the natural and the supernatural.  One is the natural weaknesses of the body subject to germs and physical weaknesses.  The other is Satanic and the results of spirits of infirmities attacking our bodies.  This is a very important part of the ministry of healing.  When we can discern the source of a physical problem we can then proceed to wait before God for the solution.
    Spirits of infirmity were encountered by Jesus Christ often in His earthly ministry.  Those spirits had to be broken or cast out before the healing could occur.  Luke described one such miracle.  "And, behold, there was a woman which had a spirit of infirmity eighteen years, and was bowed together, and could in no wise lift up herself. And when Jesus saw her, he called her to him, and said unto her, Woman, thou art loosed from thine infirmity. And he laid his hands on her: and immediately she was made straight, and glorified God. And the ruler of the synagogue answered with indignation, because that Jesus had healed on the sabbath day, and said unto the people, There are six days in which men ought to work: in them therefore come and be healed, and not on the sabbath day. The Lord then answered him, and said, Thou hypocrite, doth not each one of you on the sabbath loose his ox or his ass from the stall, and lead him away to watering? And ought not this woman, being a daughter of Abraham, whom Satan hath bound, lo, these eighteen years, be loosed from this bond on the sabbath day?"  (Luke 13:11-16).
    This story is self-explanatory.  The spirit of evil was the total source of her infirmity.  The physical body was altered to fit the dark and benighted conditions represented by this fallen spirit.  This condition can be created by possession or obsession of an individual and may happen to undiscerning Christians or sinners in obsession as well as sinners only with possession.  I would suspect that any disease or infirmity known to man can be created by the presence of spirits of infirmity.  They are going to and fro by Satan's design seeking whom they may destroy.
    Natural sicknesses are the result of our decaying body.  As already stated, each individual relates to this process on their own unique level.  A sinner outside of the mercy of Jesus Christ is certainly more vulnerable than a consecrated believer.  Carelessness in our Christian life an our treatment of Jesus Christ as Lord can also affect the natural body.  Paul said, "But let a man examine himself, and so let him eat of that bread, and drink of that cup. For he that eateth and drinketh unworthily, eateth and drinketh damnation to himself, not discerning the Lord's body. For this cause many are weak and sickly among you, and many sleep. For if we would judge ourselves, we should not be judged" (1 Corinthians 11:28-31).
Divine Healing In The Atonement
    The Biblical account leaves no room for question.  An infallible view of Scripture will remove all doubt that Jesus heals today.  Healing is provided in the atonement sacrifice and vicarious offering of the blood of  Jesus Christ.  The only power that can cheat you out of God's provisions is the devil himself.  You decide if you will be cheated or if you will enjoy the "Children's Bread."