The Pale Horse Rider And The World Turned Over To The Devil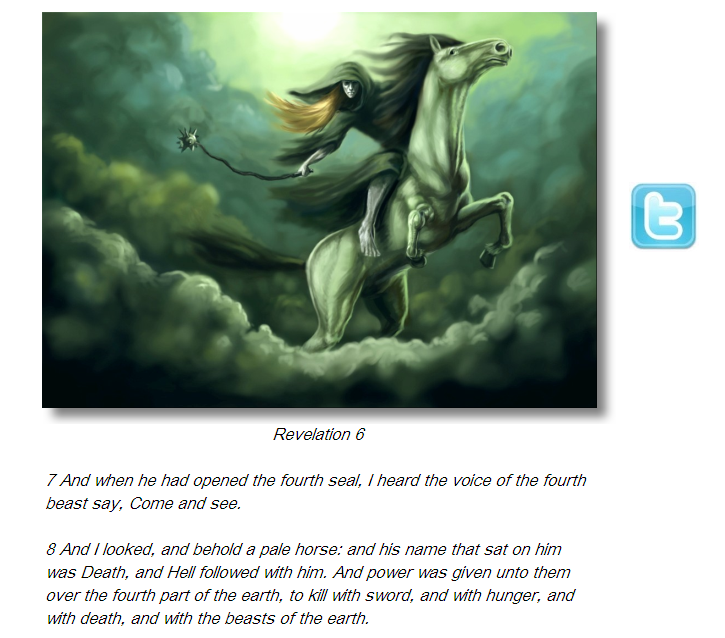 Satan has always existed on a leash that he could not escape.
His actions and evil design were subject to either the Heavenly Father or man. The Father set the ultimate limits but man also could refuse to do the devil's bidding to a degree. The picture before us is a period in which Satan will have freedoms he never had before. He will make such a mess that even his own kind will hate him.
Let's look at the present world and how we must refuse evil and how desperately we must depend on Jesus Christ and the cross. People that refuse to believe in the devil are really pitiful. They go deeper and deeper into the webs of destruction that fill our world. Consider a drug addict or an alcoholic person. There are too many webs of wickedness to try and name them all.
There is almost no consideration for the work of Satan in today's church. It's like the very possibility of a devil has been denied and belittled until the real enemy is some psychological problem or a negative self-image. But, Satan is like a cockroach and he loves it when the church ignores, and even denies, his incredible powers because then he can operate incognito. Beneath the light, or out of sight, is the primary scheme of Satan and his entire myriad of dark spirits to destroy everything that relates to God and truth. Satan is a master deceiver. He and every fallen angel at his command are deeply religious, but it is always religion with a twist. The fallen nature of man is resident in the soul, and soulical emotions can seem just as real as spiritual emotions unless that soul is kept sanctified by the blood.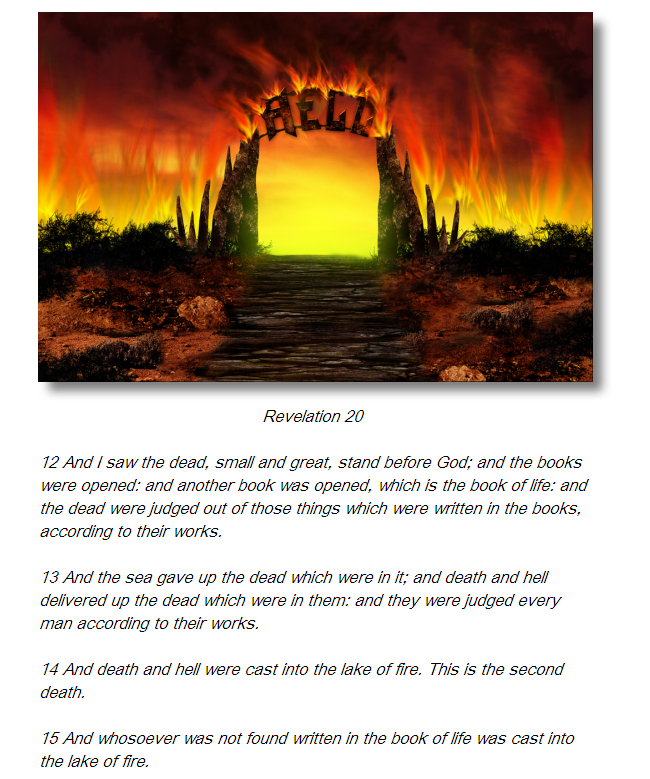 Our world is full of unconverted people that are extremely vulnerable to Satan's deception. The church is also full of unspiritual souls that cannot discern any difference between what is of God and what is of the enemy. The devil or one of his spirits can masquerade as the Holy Spirit and create soulical emotions that completely blind unsuspecting believers. These emotions can talk in tongues, shout with very titillating feelings, and say all the right words that sound like the real thing. The greater the deception, the greater the religious emotions will be that go along with the deception. Unspiritual people are always confused by these false actions because they cannot be discerned but by two facts. The Word of God is the primary discernment, but the spiritual life of an on-fire Christian is equally important. The two together cannot be deceived.
Apostle Paul wrote to Timothy and discussed these two facts of discernment. Paul said, "Holding faith, and a good conscience; which some having put away concerning faith have made shipwreck." (I Timothy 1:19) Faith in the Word and a good conscience is spiritual discernment. Paul warned Timothy by saying, "holding" or keeping a grip on "truth" and a "pure heart." One without the other will not keep you on the straight path. The Bible is the one single basis of truth but you must be filled with it. "Study to shew thyself approved unto God, a workman that needeth not to be ashamed, rightly dividing the word of truth." (II Timothy 2:15) With a heart filled with truth, keep your conscience or heart pure from every form of defilement – have no bitterness, no gossip, no offense at anyone, no anger, and be careful to stay under the blood.
Then Paul proceeds to deal with those that leave the truth or that allow the works of the flesh to steal their spiritual life and then make shipwreck their walk with God. This is worse than serious, and Paul suggests a desperate action to help them recover. Any soul that becomes bitter, offended, angry, or in fashion, falls into deception and deep spiritual confusion are in stark danger and must be helped quickly. Deception always grows until it completely destroys, and very few people escape back to spiritual sanity. I can count but a few of those shipwrecked souls in my almost sixty years of pastoring that ever returned to a wholesome Christian faith.
The one hope that Paul held out to Timothy and the church is found in this verse, "Of whom is Hymenaeus and Alexander; whom I have delivered unto Satan, that they may learn not to blaspheme." (I Timothy 1:20) Turning them over to Satan sounds ominous and scary. At the very least, no person should ever consider such action that does not walk in spiritual life. You endanger yourself when you carelessly engage in spiritual activities. Chastisement of error is a spiritual matter and God alone can do it properly. But, His Spirit never moves without human hands. We are responsible to be sensitive and a part of His kingdom. A pastor or elder of a church body must learn how to biblically turn someone that has shipwrecked over to Satan.
Remember how the Father sent evil spirits upon King Saul and he was wrought upon by their dark actions of destruction. Our God was chastening him that he might repent after experiencing such darkness. No evil spirit, from Satan to the greatest of his fallen angels, can do one thing without God or man's permission. Every evil spirit is on a leash, and God or man must give them place or privilege to operate. This is why the church of Ephesus was told, "Neither give place to the devil." (Ephesians 4:27) We are told to meekly warn those that fall into the devil's trap. "In meekness instructing those that oppose themselves; if God peradventure will give them repentance to the acknowledging of the truth; And that they may recover themselves out of the snare of the devil, who are taken captive by him at his will." (II Timothy 2:25-26)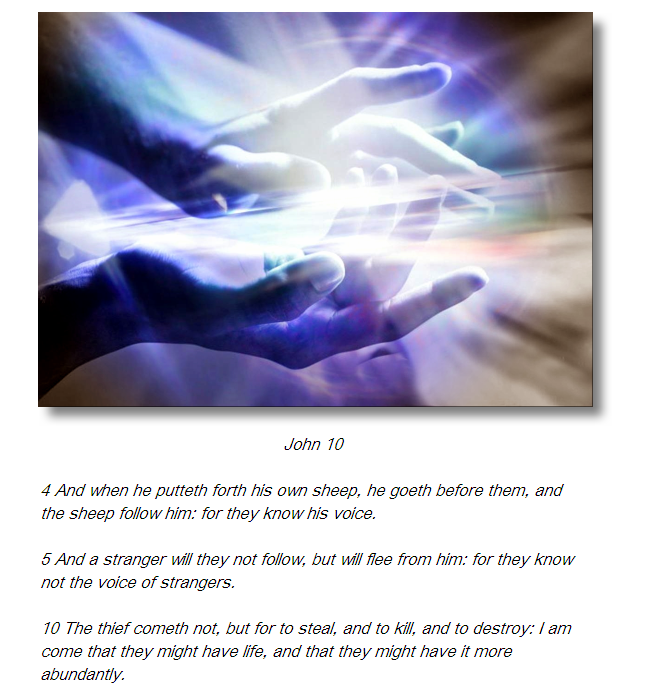 When someone is turned over to Satan, you must understand the significance of such actions. Jesus said, "Verily I say unto you, Whatsoever ye shall bind on earth shall be bound in heaven: and whatsoever ye shall loose on earth shall be loosed in heaven." (Matthew 18:18) The church holds the keys of the kingdom, not the Father or His crucified and resurrected Son. We are set in authority to transact His business on earth. We must never think to operate His business except by the Word and in the Spirit. When judgment comes, we must not rejoice lest God turn back that judgment. "Rejoice not when thine enemy falleth, and let not thine heart be glad when he stumbleth: Lest the LORD see it, and it displease him, and he turn away his wrath from him." (Proverb 24:17-18) Neither are we to feel sorrow for them and try to placate their suffering. Remember, God would not allow Aaron to weep over the death of his two sons that offered strange fire before the Lord.
God's church must not allow men to make merchandise of His anointed or His anointing. Anyone that is found rebelling against what God is doing must be quickly discerned and helped. If they refuse to be taught and refuse to repent then become bitter and angry, after carefully warning them, they should be turned over to the devil. This action should be sustained by prayer until they repent or hope is gone. It is serious and it is deep spiritual work.
As the Great Tribulation is occurring and these four Horse Riders go forth with judgment, Satan will be loose to control almost all of human actions. The world will descend into chaos. The multitudes of demon spirits now bound in hell will join Satan's multitudes on earth. Rulers and persons of authority will do the devil's commands. There will be no such thing as safety.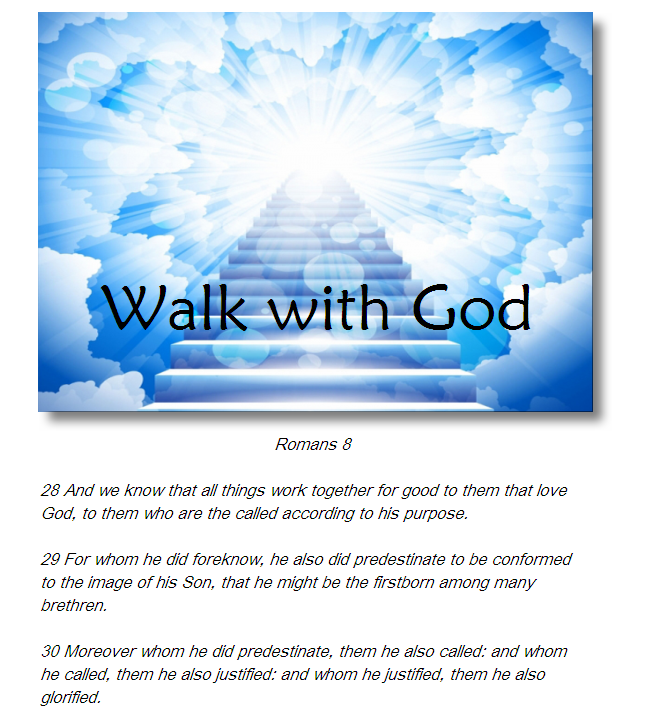 The antiChrist has been successful in blinding the world's citizens to his design. The fog of the antiChrist spirit is very close to being a total blindness. When we try to warn people they are oblivious and usually think we are religious nuts. This fog can only get worse until the Rapture.
Now you have the power to go pick up your Bible. That ability may last a little while longer if Jesus tarries. My prayer is for a Holy Ghost revival and to see souls set free of this darkness. Even a revival will be limited because sin has made cold the majority of human hearts.
Live Streaming
Don't Miss Our Live Streaming Broadcast of Open Bible Dialogue

Every Saturday at 1:00 pm Eastern
** Click Here **
Powerful Study Guides and Books for your Spiritual Growth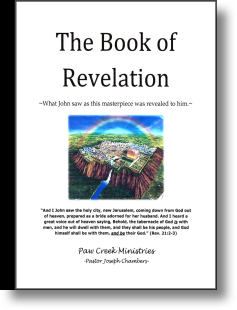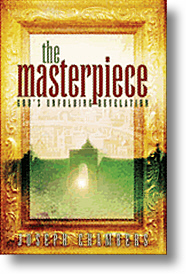 SuperCounters