THE NEW HEAVEN and NEW EARTH, versus "A Lying Prophet's Book, 'THE HARBINGER'!"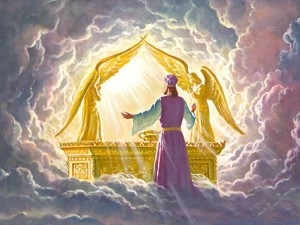 "The Harbinger" is another book that reveals the insanity of the new breed of prophets. They declare that the Bible is the picture of where God use to be. They are quick to claim that the "New Breed," has the scoop on where God is moving today. These new revelations are deceiving a multitude of unsuspecting people. This is Rick Joyner, Sid Roth, Benny Hinn, Todd Bentley, Paula White, T.D.Jake, Jim Bakker, Mike Bickle, Bob Jones, Cindy Jacobs and a multitude of Lying Prophets. They are confusing and deceiving many and they are utterly dangerous.
God has spoken His complete revelation and it's in the Word of God. I warn everyone that God's Word is complete and it is breathtaking. "For I testify unto every man that heareth the words of the prophecy of this book, If any man shall add unto these things, God shall add unto him the plagues that are written in this book."(Revelation 22:18) The outline of our Biblical future is perfect and it takes nothing but surrender for it to be manifest in your heart. "And he saith unto me, Seal not the sayings of the prophecy of this book: for the time is at hand." (Revelation 22:19) Our future is breathtaking and all we need to know is in the Holy Bible.
A New Heaven and a New Earth! Now it is worderful to go to the infallible Bible and believe exactly what we read. Our future is so great and overwhelming that believing the Bible becomes beautiful. "And I saw a new heaven and a new earth: for the first heaven and the first earth were passed away; and there was no more sea."(Revelation 21:1) The Word of God gives us a picture of the future, free of all the insane ideas of the present host of "New Prophets." When you have got to believe these confused persons it is impossible to be happy or have a good sense of our future.
New Jerusalem is a massive city but it is only a part of the New Heaven and New Earth. Apparently the Heavens and Earth will both be ours to enjoy forever. The Tree of Life and the River of Life are seen as part of the total picture. "And he shewed me a pure river of water of life, clear as crystal, proceeding out of the throne of God and of the Lamb."(Revelation 22:!) Life will be so splendid that no one ever weeps again. No sick bodies because we will all be glorified. Please listen to this broadcast and start dreaming of your future.
TWO FREE BOOKLETS, "Todd Bentley" and "Benny Hinn; A Catholic Mystic" will be sent to those that ask. These two exposures are provided to help you discern truth. Call 1 800 391 0588 or E-mail us at jrc@pawcreek.org . PLEASE SEND THIS LINK TO YOUR FRIENDS."THE BOOK,"THE HARBINGER" IS CLEARLY A LINK TO THE "NEW BREED" OF LYING PROPHETS.