THE HOLY GHOST ALONE APPLIES THE BLOOD TO THE LOST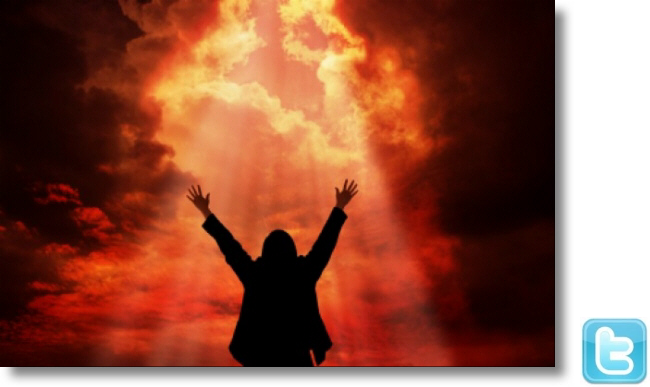 THE NEW BIRTH OF A LOST SOUL IS THE MANIFEST WORK OF THE HOLY SPIRIT. Without the presence and supernatural action of the Spirit no one can be saved. The Son of God made this absolutely clear in St. John's Gospel. "Ye must be born again" were the beautiful words of Jesus Christ to Nicodemus. Look at the clear words about the Holy Ghost that Jesus used. "Jesus answered, Verily, verily, I say unto thee, Except a man be born of water and of the Spirit, he cannot enter into the kingdom of God. That which is born of the flesh is flesh; and that which is born of the Spirit is spirit. Marvel not that I said unto thee, Ye must be born again. The wind bloweth where it listeth, and thou hearest the sound thereof, but canst not tell whence it cometh, and whither it goeth: so is every one that is born of the Spirit." (St. John 3:5-8) We must be "born of the Spirit" or we are eternally lost.
It's amazing to hear the great portion of evangelical churches denying the supernatural work of the Holy Ghost. The New Testament Church knew how totally dependent on the Holy Ghost they were. One of the noted men of great reputation, "Irenaeus, stated, "We speak wisdom among them that are perfect, terming those persons 'perfect' who have received the Spirit of God, and who through the Spirit speak all kinds of languages, and bring to light for the general benefit the hidden things of men, and declare the mysteries of God." (Irenaeus (A.D. 130-202), Against Heresies, Book V, Chapter 6, Section 1.) How can we expect supernatural results without supernatural powers from God?
If anyone gets truly saved in one of these churches, they certainly would no longer be at home in that place. The New Birth is the greatest supernatural work in the Universe. For a sinner, born in sin and governed by their Adamic nature to become a 'New Born Child of God' is a powerful action. The sin nature must be dealt a death blow. The individual must be added to the Lamb's Book of Life and placed in the Body of Christ. All of their sins have to be cleansed from the soul and spirit and a new nature manifest in place of the old. Joy and a new deep felt peace is flooded over this life and the purity of Jesus Christ is imputed. Such a new born person will be as pure as the blood of Christ is capable of cleansing, which is as a new born baby.
Now if you think this is just walking down a church aisle and saying, "I believe in Jesus," you are being fooled. If there is no "Radical New Birth" all this sinner will be is a sinning church member. This is why we have a multitude of people saying, "I'm a saved sinner." That is impossible and these dear souls are being deceived and will be lost unless somebody can get the truth to them. Apostle Paul said it better than I when he said it by the Holy Ghost. I warn you not to argue with the Holy Ghost. Here is what the Spirit said. "What shall we say then? Shall we continue in sin, that grace may abound? God forbid. How shall we, that are dead to sin, live any longer therein? Know ye not, that so many of us as were baptized into Jesus Christ were baptized into his death? Therefore we are buried with him by baptism into death: that like as Christ was raised up from the dead by the glory of the Father, even so we also should walk in newness of life. For if we have been planted together in the likeness of his death, we shall be also in the likeness of his resurrection: Knowing this, that our old man is crucified with him, that the body of sin might be destroyed, that henceforth we should not serve sin. For he that is dead is freed from sin." (Romans 6:1-7) Argue with this and you will answer down the road.
This same Holy Ghost anointed Book shows us how imperative the work of His supernatural powers are in our salvation. The Holy Spirit is the power of Christ's redemption and He alone makes us victorious saints of God. "That the righteousness of the law might be fulfilled in us, who walk not after the flesh, but after the Spirit. For they that are after the flesh do mind the things of the flesh; but they that are after the Spirit the things of the Spirit. For to be carnally minded is death; but to be spiritually minded is life and peace. Because the carnal mind is enmity against God: for it is not subject to the law of God, neither indeed can be. So then they that are in the flesh cannot please God. But ye are not in the flesh, but in the Spirit, if so be that the Spirit of God dwell in you. Now if any man have not the Spirit of Christ, he is none of his." (Romans 8:4-9) I love those words, "To be spiritually minded," or to be anointed in our life by the Holy Ghost. This is life and peace in a supernatural manner.
The Bible called this great work being "sealed with the Holy Ghost." Even as He promises us the sealing of the Holy Ghost, He also warned us that we must not grieve this third member to the Godhead that does the "sealing." "And grieve not the Holy Spirit of God, whereby ye are sealed unto the day of redemption." (Ephesians 4:30) This awesome person we call the Holy Ghost can be wounded by our stubbornness and carnality. You can drive Him away and He will remove your name from the Book of Life.
The Son of God gave two great warnings in His seven letters to the Church. "Remember therefore from whence thou art fallen, and repent, and do the first works; or else I will come unto thee quickly, and will remove thy candlestick out of his place, except thou repent." (Revelation 2:5) Again He said, "I know thy works, that thou art neither cold nor hot: I would thou wert cold or hot. So then because thou art lukewarm, and neither cold nor hot, I will spew thee out of my mouth. (Revelation 3: 15-16) Eternal Security is God's promise to every soul that will protect the seal of the Holy Ghost upon your heart. Our Father will never make you serve Him against your will. If you want to stubbornly live in your sins and disobedience, He will not break your will for you. As one writer said, "My will is mine to make it Thine." If your will has been given to Him you will find His perfect grace to keep you until that hour of our great hope. The Holy Ghost will keep all that are His.
PLEASE ORDER THE FREE GIFT FOR TODAY, "THE HOLY GHOST: THE REVELATOR OF TRUTH" OR "THE KUNDALINI SPIRIT, IMITATING THE HOLY GHOST." A NEW STUDY NOTEBOOK IS IN THE MAKING, "THE COMFORTER HAS COME: THE SPIRIT OF JESUS CHRIST." The theme is "A River Flowing From The Throne." This STUDY NOTEBOOK is for every Believer who is hungry for a rich and powerful life in Jesus Christ. Whatever your Church background, this STUDY NOTEBOOK is for one purpose. We want you to discover the promises of Jesus Christ for a Spirit-filled walk in the Holy Bible. This is going to be a wonderful Bible study. Call (800) 33-TRUTH (800) 338 7884 or (704) 391 0588. E-mail us at secretary@pawcreek.org