THE HARBINGER FABLE AND POST- MILLENNIALISM
"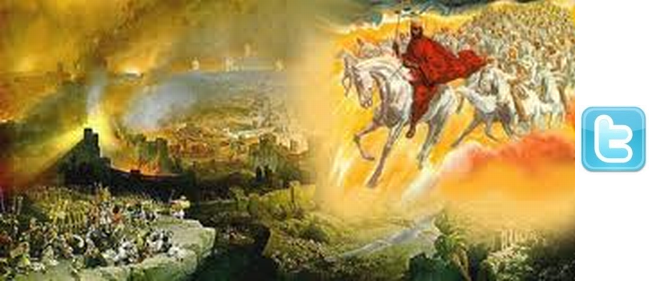 BECAUSE THE NAME OF JESUS IS PRESENTED IS NOT PROOF THAT A BOOK IS ACCEPTABLE. Jesus warned us with unmistakable language, "For many shall come in my name, saying, I am Christ; and shall deceive many." (Matt 24:5) The Church is full of cheap theology that accepts anything or any doctrine as long as there is an obscure mention of Jesus Christ or a light call to believe the gospel. A "Born Again" experience is a radical transformation and not just a mental accent. Even the Devil believes and trembles. "Thou believest that there is one God; thou doest well: the devils also believe, and tremble." (James 2:19)
A Bible believing Christian walks a fine line between being faithful in citizenship and the glorious Hope of the Rapture. We know this world is on the verge of judgment so radical and breathtaking that when that judgment is finished Jesus Christ can set up His Golden Kingdom and rule the world from Jerusalem. That truth is so sweet and pure that trying to change our world requires a clear mind and a true heart. We had rather go immediately to be with Him but we must not forsake the responsibilities of living in this world until He pleases otherwise. This world is ready for judgment but we will be Salt and Light until He says, "Come Up Hither".
Anyone that learns the truth of the "GOLDEN KINGDOM OF JESUS CHRIST" can hardly wait to hear the trumpet. The Bride of Christ has eyes trained on the sky and is looking for Him any moment. Even caring what happens in the next election takes a heart that can be true first to the Gospel but also care about the direction of our world until He comes. A people radically "Born Again" will never be seduced away from the Hope of seeing Him in the sky. Post-Millennialism or Dominionism is utterly foreign to a Rapture Ready saint. Even a whisper of saving this world from the impending judgment is not thinkable. Let's take a final look at this book that leans toward Dominionism.
There are a number of warning signs concerning this "Fable".
1. Those that support it are ferocious at those who are warning everyone.
2. The book claims a prophetic message that totally bypasses the pre-tribulation rapture or the coming appearance of a personal Anti-Christ.
3. This book claims that repentance will save the world from the impending destruction and dark tribulation.
4. The prophet presented in this book is a paranormal psychic. His person is totally occultic.
5. Scriptures he uses are utterly imagined, taken out of context, and have no collaboration with New Testament confirmation. They are not rightly divided as commanded by the Bible.
6. The Bible warns, "Ye are they which justify yourselves before men; but God knoweth your hearts: for that which is highly esteemed among men is abomination in the sight of God." (Luke 16:15) When the New World Church groups loves it, we cannot endorse it or take it seriously.
There has been a lot of flak over my discernment of this book. I think anyone can read what I have said and see that no one has been attacked. I have spoken only in a kind way about the author or others who differ among us Pre-Tribulation believers. Yes, I'm strong about the New Wave Charismatics and their Dominionism teaching, but not unkind about them as individuals. When I see doctrines or ideas that confront End Times truths I act quickly and courageously. I believe the devil will design suttle and strong attacks against the "Glorious Hope Of Christ's Coming and The Great Tribulation To Follow".
Here is an e-mail sent to me last Saturday after the broadcast by a dear lady named Jan Markell that disagreed with me. I know nothing about her, so I certainly have no maliciousness  or anger. She had written an article the week before calling those that have spoken with discernment entitled, "When Christians Engage in Blood Sport".  Her e-mail to me was the following. " What you're doing is shameful. I have concluded you are motivated by envy. You are discrediting the world of eschatology. Please retire and stop embarrassing those of us who are scholars and who go about this properly."
However, a faithful partner of our ministry had this to say in response: "My own personal thoughts: while I admit I am getting a bit tired of reading about "The Harbinger" ~ both good and bad… [ just like all the other stuff over the years that people.. Christians.. got on both sides of the fence over!! i.e. "The Passion of Christ" movie… and we could go on & on…] but my personal feelings aside because all I have to do is not read any more until we move forward with other subjects. But I wanted to say, Jan Markell: I've always been a fan of your updates & emails & sometimes share them with others. You seem balanced, a great watcher and indeed a "scholar". But OUCH!! You just shot yourself in the foot here — showing your true feelings perhaps? Because if this was an accidental slipup, surely you'd take time to come back & apologize. I was taken aback the way you pounced all over Bro. Chambers. He is doing absolutely nothing that is "shameful"; I have met him & his wife at a prophecy conference [though surely they do not remember me; it was a long time ago] and can just almost bet the farm that he is NOT motivated "by envy". Good grief! What an outlandish statement! Further: you stated he is "discrediting the world of eschatology"…. again!! OUTLANDISH!! Why I keep the level of enthusiasm of our Blessed Hope quite full ~ in part, many thanks to Joseph Chambers for taking time to remind us how very close we are to seeing Jesus, Savior and Lord!   Please retire? Well, that's up to him & the Lord, and not to be ordered by another. But this line got me the most: "and stop embarrassing those of us who are scholars" and go about this properly. Goodnight, Ms. Markell!! Just who do you think YOU ARE?? One of God's top scholars who can tell all the other prophecy teachers what's what? You remind me way too much of that old prophecy preacher (his name currently eludes me) but he's crusty and rusty and teaches doctrinal error (I'm not saying you are doing that) but he had such a haughty air about him ~ actually telling people that if they had not studied prophecy for as long as he had, then they should "sit down and shut up"…. further, he dogmatically insists that he is right about everything!! He even said that the AntiChrist would have control only over the MidEast and Europe – and not the western world. How contrary to Scripture that is!! Revelation clearly states that the AntiChrist will have control over the WHOLE world!!! And the whole world, those names that are not written in the book of life, will bow down to him. Jan, I am not saying you are teaching this so do not even try to read it that way ~ I am merely saying you displayed the same dogmatic, arrogant attitude. Listen, I don't agree with EVERYTHING Bro. Chambers says either – only most of it. But I don't think it's right to come stomping in here & beat up on a Christian brother & imply that you're the only one who's a "scholar". Do you have any idea how many years this man has studied & preached? I'm sorry his take on "The Harbinger" does not agree with yours. But you could have challenged him on that; instead of beating up on him personally!! Since you chose to do that, I personally lost a ton of respect for you. Lastly, a note/reminder to all of us: folks these are DANGEROUS last days!!! It is so difficult to tell the wheat from the tares. THANKS RJ!!!!
It was the scholars that gave us "the misinterpreted" NIV Bible. It was the scholars that gave us the new NIV, which presents a "gender-friendly" edition. It was scholars that gave us the "lying/paraphrased" Bibles and promoted the "Emergent Church", "The Purpose Driven Life"  and thousands of books, sermons, and compromises that have practically destroyed the American Church. All kinds of destructive ideas, books etc.  are from "scholars". One after the other of these "scholars" are telling the world that you can live in sin, homosexuality, fornication and still go in the Rapture without repentance and a total return to Christ. The Bible and its messages are being watered down to a dangerous mixture and I am dedicated to speaking the truth regardless of the attacks.
OUR GIFT IS A BOOKLET THAT YOU CAN SHARE OR STUDY ABOUT THE GREAT TRUTH OF THE GOLDEN KINGDOM OF ONE THOUSAND YEARS. When we fully grasp the coming Kingdom of Jesus Christ on this earth with Satan in the bottomless pit we know why all hell hates the truth. Next Saturday we will look at the Biblical teaching of this wonderful subject. Call to order at 1-800-338-7884 or 704-391-0588. The e-mail address is secretary@pawcreek.org.