THE GOLDEN KINGDOM OF 1,000 YEARS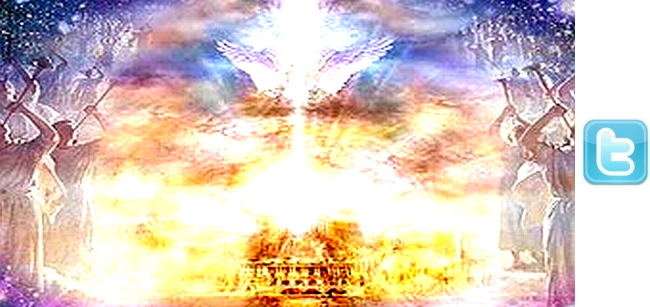 Heaven on Earth, Jesus Christ the King of Kings and every Raptured saint shall flourish in the courts of our King. The Bible specifically states, "Those that be planted in the house of the Lord shall flourish in the courts of our God." (Psalm 92: 13) I would never think of forsaking the House of God. If every pastor backslid from the truth of God's Word, I would still go to God's House and worship my King, even if I had to wear earplugs. Every "Born Again" saint that obeys Him with all their heart has a star-studded future in the worldwide kingdom of righteousness. Nothing is going to cheat me out of His plans for His chosen. By grace! I am kept by His grace!
There are so many incredible things planned for His Golden Kingdom.
1. It will be ruled totally by His exalted, glorified person.
2. The weather patterns will be healed.
3. It will be a world of perfect health. "They shall not hurt nor destroy in all my holy mountain, saith the LORD." (Isaiah 65:25B)
4. Every violent person or animal will be changed and freed from the hostility.
5. There will be no immoral dressing and no cross-dressing. Men will be men and women will be women.
6. Depression and oppression will cease.
7. The entire culture will be pure, well ordered, and God-like.
8. Hatred, jealousy, and anger will vanish.
9. There will be no unclean habits.
10. You will never need to lock your doors or protect yourselves/family from harm.
11. Our diet will no longer be desirous for the slaughter of animals, but for fruits and vegetables.
12. The natural world will provide a pleasurable existence.
13. There will be no broken families, no father against mother, or children and grandchildren forsaking one another.
14. Love will rule in this kingdom.
15. There will be no enemies nor anyone dreaming to destroy you.
16. You will not hear cursing and swearing or any language of the gutter.
17. No spouses will leave their husband or wife.
18. Homosexuality and lesbianism will cease to exist.
19. "For the earth shall be filled with the knowledge of the glory of the Lord, as the waters cover the sea." (Habakkuk 2:14)
20. The Holy Bible, perfect and infallible, will be central to the Holy "One-World Order" of Jesus Christ and the "Golden Kingdom".
21. A greatly enlarged city of Jerusalem will be the world's capitol.
The emerging church, new-wave charismatic people, and most of the "church" world is quickly becoming angry and determined to destroy this great biblical truth. The spirit of the Anti-Christ is out to set up the kingdom of Satan and usher in his new "Christ". The epic battle of the ages is on and it is a fight to the finish. Jesus Christ and His blood-washed Saints will win!
OUR GIFT IS A BOOKLET THAT YOU CAN SHARE OR STUDY ABOUT THE GREAT TRUTH OF THE GOLDEN KINGDOM OF ONE THOUSAND YEARS.
Also, I will send a sermon entitled, "Born Again, An Overcomer". When we fully grasp the coming Kingdom of Jesus Christ on this earth with Satan in the bottomless pit we know why all hell hates the truth. Next Saturday we will look at the Biblical teaching of this wonderful subject.
Call to order at 1-800-338-7884 or 704-391-0588. The e-mail address is secretary@pawcreek.org.