THE DARK CURSE OF RELIGION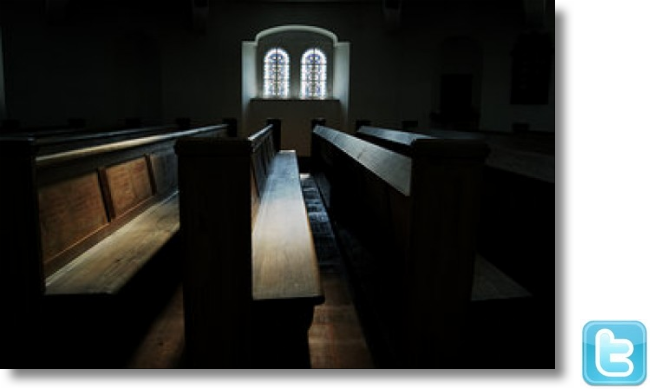 "THE RAPTURE IS IMMINENT, MAYBE TODAY!" THE ANTICHRIST SPIRIT IS AT ITS HIGHEST EXPRESSION, "A SPIRIT OF RELIGION." You absolutely cannot find a living soul in the Antichrist realm that is not powerfully possessed with religion. That is the heart and soul of the Antichrist deception. Satan's scheme to replace God with himself is presently at its nearest point of success in human history just in time for the condition of the world to receive him. The whole picture is so dubious that only spiritual blindness could possibly allow such foolishness to succeed.
One basic idea is all that the world needed. That idea is right now, "King of the world." It's so simple that the weakest mind or the greatest mind can both join together. It is a very benign idea, yet it is so powerful that it embraces all movements and thinking. It is nothing so profound, and yet, it is the most profound thought in the church and the religious world. Listen carefully, it is the defining mind of our world, "All Truth is Relative," or in a more understandable thought, "There are no Absolutes."
It did not begin that plain, but rather very deceptively. When the world's intelligentsia began to define, "politically correct language," it sounded good. We should be careful to say kind things because the Bible teaches us that, "Death and life are in the power of the tongue: and they that love it shall eat the fruit thereof."(Proverbs 18:21) But very quickly it became a moral issue of protection for immoral action. Now it has become the protection of all minority religions and an excuse to eliminate Biblical values and expressions. Politically correct language has now become the tool to destroy "Fundamental Christianity." Bible believing people all over our world are becoming the ultimate enemy of society.
This dark idea has taken possession of the church world. Churches are no longer willing to post their name without using non-theological terms. Names—such as "The Gathering Place, Renovatus, or Elevation" are the order of the day. What are they saying with these terms? No absolutes, sin friendly, come as you are, let's have religion together without the Bible? It has almost become impossible to find someone that will admit that they are unsaved or in need of the Lord Jesus in their life.
The Antichrist could not have taken over the world fifty years ago because the church world believed the Bible was the King of all ideas or thoughts. Yes, there were many different doctrines but there was so much truth in those doctrines that some of the greatest revivals brought the entire church world together. I used to love community church events because they were wonderful. One of my best friends when I pastored in Black Mountain, N.C. was an Episcopalian Pastor. Years ago in Charlotte, my friend was the Pastor of St. John Baptist church beside the Presbyterian Hospital. One book divided us because it was a beginning source of moving the church away from truth, to a relative thought life. He went after that path and I trusted the Scripture as King.
Look at where we are today. You can go to jail in many parts of our world for calling homosexuality a sin. Our President claims to be a Christian, and yet, he brings the filthiest singers and performers to blaspheme our White House. The biggest churches in America are no more than a bar room and our youth flock into these Antichrist settings by the millions.
The Curse of Religion has taken over the church world and that is exactly what the Lord Jesus said would occur. There is no salvation in anything but "Truth," plain, simple truth. It will totally change your life. Apostle Paul warned us of this final hour of deception. "And then shall that Wicked be revealed, whom the Lord shall consume with the spirit of his mouth, and shall destroy with the brightness of his coming: Even him, whose coming is after the working of Satan with all power and signs and lying wonders,"
(II Thessalonians 2:8-9) Then he said the defining words that described this generation. "And with all deceivableness of unrighteousness in them that perish; because they received not the love of the truth, that they might be saved. And for this cause God shall send them strong delusion, that they should believe a lie: That they all might be damned who believed not the truth, but had pleasure in unrighteousness." (II Thessalonians 2:10-12) This a picture of the church world. Please note those powerful words, "because they received not the Truth."
Religion, without the narrow truth of the Bible, is the curse of this generation facing the "Imminent Rapture." If the Bible is not the "King of your faith," you are lost. Jesus said, "And Jesus answered him, saying, It is written, That man shall not live by bread alone, but by every word of God." (Luke 4:4) The Bible is infallible and absolute. You will go to Heaven by the "Highway of Holy Truth," or spend eternity in the "Lake of Fire."