THE CITY OF "NEW JERUSALEM" COMING DOWN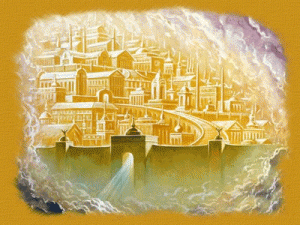 THIS CITY IS TOO PRICELESS TO VALUE. And everything we hear is what John saw and he declared it was the Lord Jesus that gave him these visions. Let my words paint a picture as I try to reach your understanding. Much of the following is copied from our book "THE MASTERPIECE." The width is exactly the same on all four sides and the height is equal. Twelve thousand furlongs is fifteen hundred miles.To imagine a city that is fifteen hundred miles square and fifteen hundred miles high that is surrounded by jasper walls is breathtaking. The highest mountain in the world is less than six miles high (Mount Everest – 29,035 feet) and the highest in America is less than four miles high (Mount McKinley – 20,320 feet). We are speaking of a city so massive that our minds can only imagine its grandeur. The city of New Jerusalem is 7,920,000 feet high compared to Mount Everest at 29,035 feet. This comparison makes Mount Everest appear to be nothing but a molehill. ALL OF THIS IS WHAT JOHN SAW, NOT WHAT HE HEARD. The total wealth of this entire earth does not hold a light to the wealth of this new city. The gold that has been mined and minted during human history is minute compared to the gold in this city. It would not be enough to pave the streets of one level of this city and this will be a city of twelve foundations or levels. Each level will be one hundred and twenty-five miles high or 657,700 feet, over twenty- two times higher than Mount Everest. The height of the walls on each level is 144 cubits or approximately 226 feet. These walls are not provided to keep the glorified saints in or out. The foundations at each level are one hundred and forty-four cubits, which is approximately 226 feet high. These foundations are then garnished with twelve manners of precious stones. THESE ARE BIBLICAL DESCRIPTIONS THAT GOD SHOWED JOHN. The great walls of this city will probably be translucent, allowing the city's beauty to shine without or allowing those dwelling outside to see within. The twelve gates carved from pearls will be the most beautiful gates of eternity. They never close, but stand as a welcome to the saved of the earth to enjoy and delight themselves with God's glory within. A great angel will be God's porter at each gate, and the gates will bear the names of the twelve tribes of Israel, with each gate having a different name. I would imagine that the children of Israel would use the gates to enter and visit the city that bears their tribal names. These gates are perfectly placed with three gates on each side. The foundations of the city are named after the twelve apostles. On and on Apostle John described what he saw. Notice his words telling the world what the Lord Jesus showed him. :And I John saw the holy city, new Jerusalem, coming down from God out of heaven, prepared as a bride adorned for her husband." (Revelation 21:2) A person has got to be utterly deceived to deny the Book of Revelation.
"THE MASTERPIECE" is our book that gives detailed information from the book of Revelation. I recommend it for anyone that wants a clear view of this most important book. Why most of the church world rejects this final prophecy is beyond my heart. Do not put your soul in peril by denying God's final book. E-mail us at jrc@pawcreek.org or call 1 800 338 7884. Go to the Home Page for a quick way to order this most important book.