JOHN THE REVELATOR SAW THE BOOKS OPENED IN HEAVEN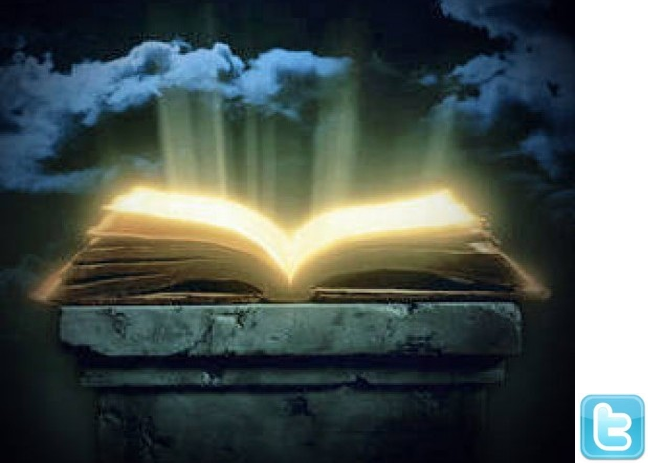 THE HOLY GHOST WITH GOD'S ANGELS ARE THE KEEPERS OF THE ARCHIVES OF HEAVEN. THERE ARE FIVE SPECIFIC BOOKS OR VOLUMES OF BOOKS THAT REPRESENT ALL HUMAN ACCOUNTS THAT ARE PRESERVED FOR ETERNITY. The only facts that are removed from these books are sins that have been forgiven and removed by the Blood of Jesus Christ. Men and women who die in their sins have their names vanished and are never remembered. These books begin with all our bodily members recorded before we were conceived in our mother's womb. They conclude with a single book called, "The Book of Life," where the name of every redeemed soul is recorded.
No volume of books is more important than the Holy Bible. We may think of them as earth bound books that only effect our understanding of our God while here on earth. That is clearly faulty thinking. These books are said by the Bible itself to be forever reserved in Heaven. "For ever, O LORD, thy word is settled in heaven." (Psalms 119:89) The Holy Spirit watches over the Words of God. "For I am the LORD: I will speak, and the word that I shall speak shall come to pass; it shall be no more prolonged: for in your days, O rebellious house, will I say the word, and will perform it, saith the Lord GOD." (Ezekiel 12:25) Jesus Christ stated, "Man shall not live by bread alone, but by every word that proceedeth out of the mouth of God." (Matthew 4:4) We will be judged by every word that has been recorded in these sixty-six books in this awesome volume of a perfect revelation.
Another great volume of books is His records of those that walk with Him every day, talk regularly to others about Him, and fear His majestic name. This description is found in the Book of Malachi. Our Father has been preparing a Bride for His Son since the day of Creation and He has a "Roll Call" for that Bride. Here are the prophet's words, "Then they that feared the LORD spake often one to another: and the LORD hearkened, and heard it, and a book of remembrance was written before him for them that feared the LORD, and that thought upon his name. And they shall be mine, saith the LORD of hosts, in that day when I make up my jewels; and I will spare them, as a man spareth his own son that serveth him. Then shall ye return, and discern between the righteous and the wicked, between him that serveth God and him that serveth him not." (Malachi 3:16-18) He called this His "Book of Remembrance." He even called this great company of Saints His "Jewels."
The records of all our members, our identification such as fingerprints, DNA, and even the irises of our eyes are all recorded. Not another human person has any of our similar markings or likeness. This is recorded in His volume of Bible books. "I will praise thee; for I am fearfully and wonderfully made: marvelous are thy works; and that my soul knoweth right well. My substance was not hid from thee, when I was made in secret, and curiously wrought in the lowest parts of the earth. Thine eyes did see my substance, yet being unperfect; and in thy book all my members were written, which in continuance were fashioned, when as yet there was none of them." (Psalms 139:14-16)
Nothing reveals the great omniscience of all human failure and sins than the books John saw at the White Throne Judgment. Every ugly word, every immoral act, all the filth and degradation of evil people will be ready for exposure. Nothing that men and women have given their lives to follow nor any act will be hidden. These books are complete and because men have rejected the cleansing Blood of the Son of God, they are then the forces of judgment. Every sin must be accounted for and then answered, for every sinner will pay for every sin. It's almost beyond human imagination to grasp what kind of hell can be so deep and dark. John describes this heart breaking scene before him. "And I saw a great white throne, and him that sat on it, from whose face the earth and the heaven fled away; and there was found no place for them. And I saw the dead, small and great, stand before God; and the books were opened: and another book was opened, which is the book of life: and the dead were judged out of those things which were written in the books, according to their works. And the sea gave up the dead which were in it; and death and hell delivered up the dead which were in them: and they were judged every man according to their works. And death and hell were cast into the lake of fire. This is the second death." (Revelation 20:11-14)
The presence of our heavenly Father on His awesome Throne will be such that all the multitude gathered in preparation to answer to Him will be driven backward. John sees it as it appears that all of the very likeness of the earth and the heavens disappear. The holiness of His Throne will be more than wicked people can bear, but yet they have no choice. The volume of books recording the dark sins will be a horrible sight. Hidden sins, shameful sins, sins that broke the hearts of mothers and dads, wives and husbands and most of all God, will now be judged. It will be too late to repent.
The last book in God's archives is the single volume, called the "Book of Life." Even at this judgment of the wicked, this book is the final answer of man's eternal judgment. Notice this statement, "And whosoever was not found written in the book of life was cast into the lake of fire." (Revelation 20: 15) No doubts could be allowed. The effort to search this book is clear. I can almost hear some desperate person scream, "Please search that Book again." It will be too late!
We are preparing a notebook entitled, "THE WAR OF GOG AND MAGOG". This will be a comprehensive study of this subject like I have always wanted for myself. Every nation involved will be identified with historic information. The many things coming from Iran, Egypt, Syria, Russia or Israel, etc. will be represented. There will be eight articles written to help explain the development as the study progresses. It is being done in color and will be between 125 and 150 pages. Everything we do is fully guaranteed with our money back promise. We are here to bless, not make money. The notebook will be sent immediately with the first stage (Approximately 80 pages) and additional pages to follow. (Notebook $29.95, Email without notebook cover $15.00) Call 1 800 338 7884 or 1 704 391 0588. Email us at secretary@pawcreek.org.