EMERGENCY INFORMATION ABOUT GOG AND MAGOG
Pastor Chambers,
Thank you for constantly keeping us in touch with what's really going on!
Your Open Bible Dialog on Gog and Magog is so timely. Your audience needs desperately to hear this series as it unfolds. Embassy after embassy being targeted and attacked as the Muslim Brotherhood takes over the Middle East. Today it's Yemen, tomorrow…. the list continues. This is officially out of control!
Sometimes I think our leadership hasn't got a clue, seriously, and the news media fails to understand that this is the preparation for the war of Gog and Magog. The secular world just doesn't understand the significance of these developments or how they will drastically change our world, even on this side of the planet.
The Arab Spring was the beginning of the orchestrated takeover of as much of the Middle East as the Muslim Brotherhood can accomplish. So far the dictators of Tunisia, Egypt, Libya and Yemen have fallen. Protests lead to revolutions, revolutions lead to the overthrow of dictators, and then the Muslim Brotherhood "slides" right into the power void, which was the plan from the beginning.
Israel is in the crosshairs, but God will defend them with His great glory!
Can't wait to hear your next broadcast! Thank you for speaking the truth and showing how the Bible has already declared this major end-time event.
Brian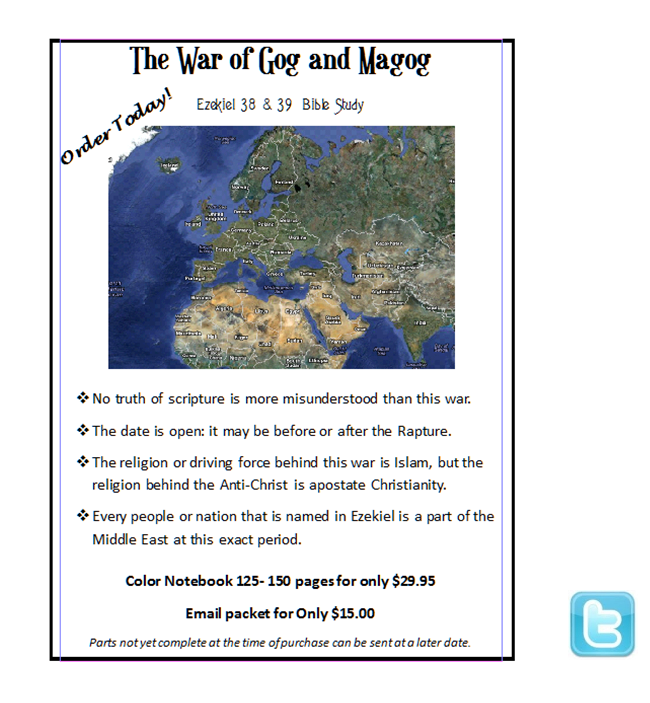 We have prepared a notebook entitled, "THE WAR OF GOG AND MAGOG". This is a comprehensive study of this subject like I have always wanted for myself. Every nation involved will be identified with historic information. The many things coming from Iran, Egypt, Syria, Russia or Israel, etc. will be represented. There will be eight articles written to help explain the development as the study progresses. It is being done in color and will be between 125 and 150 pages. Everything we do is fully guaranteed with our money back promise. We are here to bless not make money. The notebook will be sent immediately with the first stage (Approximately 80 pages) and additional pages to follow. (Notebook $29.95, Email without notebook cover $15.00) Call 1 800 338 7884 or 1 704 391 0588. Email us at secretary@pawcreek.org.