Cries from the Lake of Fire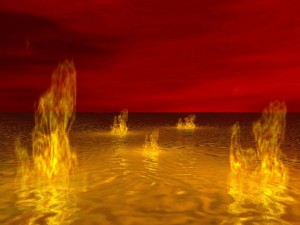 I know a man that had a vision of cries coming from the Lake of Fire. These cries were from a loved one that had turned from Christ to the world. Hearing this man tell his vision was not a pleasant matter, but it will certainly benefit all of us in re-inspiring our prayer life. This vision was given to this saint to help him make sure the vision never became a reality. Everything the Heavenly Father does is to save us, not to condemn us. The fact is that no one can condemn another person to hell, only their own rebellious choices can. It's harvest time, because it is also the End Times!
The Vision:
This father was startled when he heard someone calling to him from what seemed a great distance. From the voice, the father immediately knew that it was someone he loved greatly. It was eerie because it was so desperate. He had often heard the very words he was hearing now. Moving through the house, practically asleep, he was having trouble not falling over everything in his hurry to reach the voice. "Help me, help me," cried the voice. "Come get me, come get me," the father kept hearing. The sounds of these words caused this father to sob even as he searched. He had always responded to those he loved. Never had he failed to weep and pray for his family. He was a father and grandfather above everything else.
The search seemed to last for hours. He wondered where this voice could be coming from. In every corner the house was searched and, finally, the yard, and even the woods. This man's heart was so torn that he seemed irrational, returning to the same places over and over. Several times he fell, bruising and wounding every limb. Anyone that saw him thought he was a mad man as he hurried to look at every spot again and again. The voice was so desperate.
Finally, he saw a lake in the distance and hurried with fear that his loved one was drowning. Then, the voice sounded louder and came from the direction in which he was rushing. Quickly, he stood at the edge of the lake only to see brimstone and fire instead of water. The stench of burning flesh was unbearable. The voice was now clear, yet distant and filled with pain and horror. There was no face to the screams, but neither was there any doubt to the source. A hand reached upwards from out of the flames, but quickly disappeared. Then he cried toward the voice, "Come to me my loved one, come to me."
The father crumbled on the bank sobbing as if his own life was expiring. Again, he heard the voice, "Help me, help me. Please, come and get me." Then, he cried out, "There is a great gulf between us. I want to come, but there is no way across. I can save you from the waters, but I cannot save you from the flames. You must make the choice to come." The voice became faint and began to fade. Again, he cried, "Come, come, my loved one, Jesus Christ will help you; He alone can save you now."
As the vision ended, this father and grandfather was totally exhausted and sobbing with heartrending tears. His prayer life would never be the same. Instead of hours of prayer, there would be days of prayer. No one will ever hear the terror of someone in hell and return to be listless before the Throne of God. This father was overjoyed when he realized there was still time to win that soul to Christ and His abundant grace.
The vision above would be strange and rejected if the Lord Jesus Christ had not told a similar story. The world and, even our churches, have mostly rejected the truth of hell and the Lake of Fire. Jesus Christ left us no doubt as to a place of eternal judgment. Jesus states these exact words, "And in hell he lift up his eyes, being in torments, and seeth Abraham afar off, and Lazarus in his bosom. And he cried and said, Father Abraham, have mercy on me, and send Lazarus, that he may dip the tip of his finger in water, and cool my tongue; for I am tormented in this flame" (Luke 16:23-24). Jeremiah must have had a similar vision for he became the weeping prophet. He cried out, "Oh that my head were waters, and mine eyes a fountain of tears, that I might weep day and night for the slain of the daughter of my people!" (Jeremiah 9:1).
Souls are won and brought to Christ by spiritual saints that have allowed the Holy Spirit to break them and possess them for others. The travail of the saintly soul for the lost is God's incubation of life. There is no defeat when His children begin to weep for their lost loved ones. Micah, the prophet, stated by the Holy Ghost, "Therefore will he give them up, until the time that she which travaileth hath brought forth" (Micah 5:3a). Our Father is absolutely moved when we are broken and moved into a soul-disturbing prayer life.
Great Holy Ghost revival is at the door of the true church that will hold the standard of scripture and intercede in heartrending travail. The Bible has promised, "And it shall come to pass in the last days, saith God, I will pour out of my Spirit upon all flesh: and your sons and your daughters shall prophesy, and your young men shall see visions, and your old men shall dream dreams" (Acts 2:17).