CAMP MEETING 2011: June 27 – July 03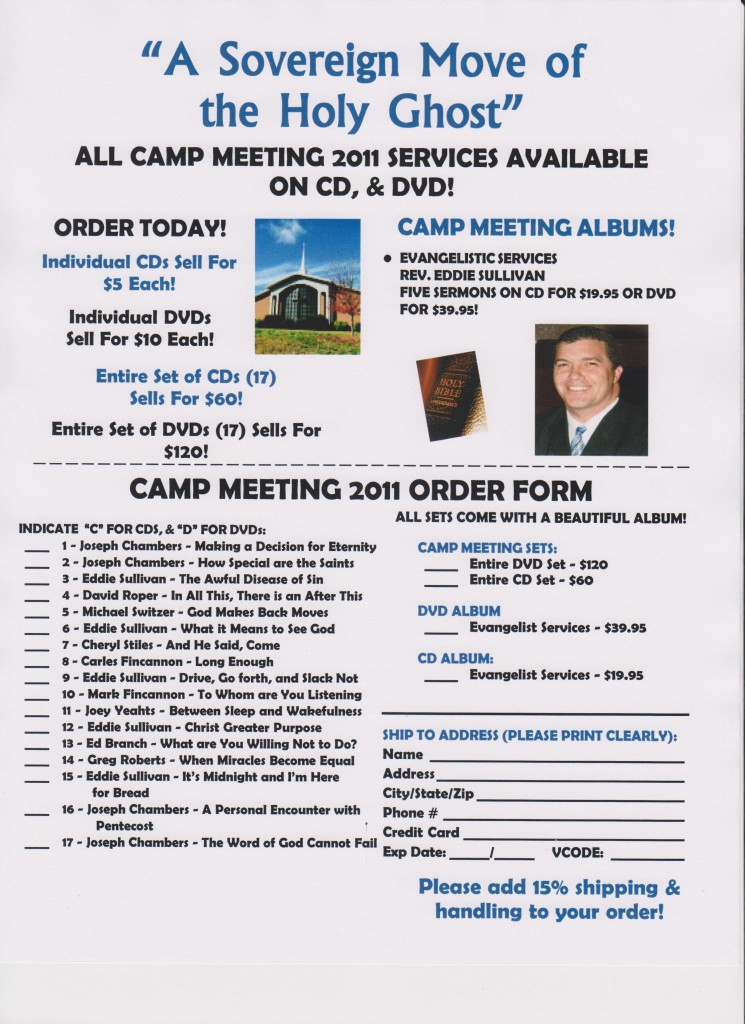 HALLELUJAH!! I Would Love To Have All Of My Internet Friends (THAT LIVE ClOSE ENOUGH TO ATTEND) In Our Camp Meeting. Since that is not possible, we wll make some of it available on our site. The order form above is for ordering items from the meeting. Every message will be prepared on DVDs and available. As close as we are to the RAPTURE this special meeting is a must. Without a doubt we have some of the best PREACHING in the church world. Old Fashion Preaching will change your life and bring real conviction of sin and carelessness to your Walk. It will do more to get you ready for the Rapture than anything I can name. "For after that in the wisdom of God the world by wisdom knew not God, it pleased God by the foolishness of preaching to save them that believe." (I Corinthians 1-21)I Love Powerful Preaching.
The Blood Of Christ is God's active power manisfested in ANOINTED PREACHING. When the Word is Preached, the HOLY GHOST is manifest and a sweet Spirit of Grace visits His church. Our CAMP MEETING will be an example of this WONDERFUL truth and we want you to shar tis glory from the Lord!!!
PAW CREEK CHURCH
5110 TUCKASEEGEE ROAD
CHARLOTTE, N. C. 28208
EVANGELIST: Reverend Eddie Sullivan
" A noted Camp Meeting Preacher!!!"
DATE: June 27th to July 1th
Monday to Friday 7:00 P.M.
( Food available after the Altar service)
Tuesday to Friday 10:00 A.M.
(Complimary Lunch)
POST CAMP MEETING SUNDAY
JULY 3rd
Morning 10:50 A.M.
Evening 6:00 P.M.
Minister: Reverend Greg Roberts
"A great Preacher and special friend"
EVERY CAMP MEETING Guest from our SALTY SAINTS Internet Ministry will receive a free book (NEBUCHADNEZZAR, HEAD OF GOLD) in the mail after CAMP MEETING. To get your gift fill out a visitors card and put your E-mail address on the card.
WELCOME!!!!!!!! WELCOME!!!!!!!!! WELCOME!!!!!!!!!! WELCOME!!!!!!!!!