BORN AGAIN: AN OVERCOMER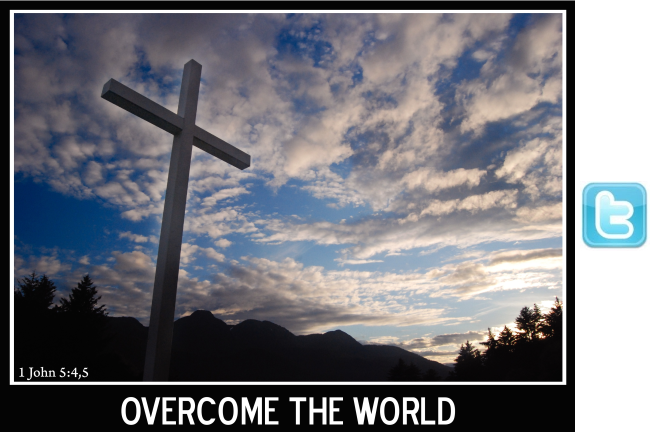 It is imperative that we warn our church world of the Christians' absolute responsibility to be an over-comer. The Holy Bible has commanded that we overcome four things.
1. We must overcome the flesh
2. We must overcome the World
3. We must overcome the Devil
4. We must overcome the End Times spirit of the Anti-Christ
The Lord freely saves us; it is His gift of salvation. We must obey and surrender to Him, it is our gift of doing His will. He made it very plain. "And he said to [them] all, If any [man] will come after me, let him deny himself, and take up his cross daily, and follow me." (Luke 9:23) Again in the book of Mark He said, "And when he had called the people [unto him] with his disciples also, he said unto them, Whosoever will come after me, let him deny himself, and take up his cross, and follow me." (Mark 8:34) The Christian life is a sell-out lifestyle. We either do His will or we are not His son or daughter.
Look at seven statements in the Book of Revelation to the seven churches. This is the Lord's last words to His body, the Church.
1. "To him that overcometh will I give to eat of the tree of life, which is in the midst of the paradise of God."
2. " He that overcometh shall not be hurt of the second death."
3. "To him that overcometh will I give to eat of the hidden manna, and will give him a white stone, and in the stone a new name written, which no man knoweth saving he that receiveth [it]."
4. "And he that overcometh, and keepeth my works unto the end, to him will I give power over the nations: And he shall rule them with a rod of iron; as the vessels of a potter shall they be broken to shivers: even as I received of my Father. And I will give him the morning star."
5. "He that overcometh, the same shall be clothed in white raiment; and I will not blot out his name out of the book of life, but I will confess his name before my Father, and before his angels."
6. "Him that overcometh will I make a pillar in the temple of my God, and he shall go no more out: and I will write upon him the name of my God, and the name of the city of my God, [which is] new Jerusalem, which cometh down out of heaven from my God: and [I will write upon him] my new name."
7. "To him that overcometh will I grant to sit with me in my throne, even as I also overcame, and am set down with my Father in his throne."
How can anyone doubt our duty to overcome and put away the life of self? The seven promises that go with each command to overcome are breathtaking. The seven commands are loaded with the promises of the coming kingdom of golden splendor. This life is not much better than a journey through the wilderness. The very best we receive is but a little taste of the glory to come!
The next great revelation will be the "Golden Kingdom of Jesus Christ." Our next End Times publication is going to be about the future one-thousand years on this earth when we reign with Christ. Last evening I was reading the book of Acts, chapter 3. The Spirit of God begins to reveal this golden kingdom in the great miracle at the gate called Beautiful. Suddenly I realized that this gate is the same one Christ would enter when He returns to establish His millennial kingdom. The Nation of Israel will be restored as His theocracy and the whole world will be united as one kingdom.
Look at Peter's words as He spoke of the Lord Jesus and the Future. "Whom the heaven must receive until the times of restitution of all things, which God hath spoken by the mouth of all his holy prophets since the world began. For Moses truly said unto the fathers, A prophet shall the Lord your God raise up unto you of your brethren, like unto me; him shall ye hear in all things whatsoever he shall say unto you. And it shall come to pass, [that] every soul, which will not hear that prophet, shall be destroyed from among the people."(Acts 3:20-23)
If you want to be raptured and return, after seven years of celebration in Heaven, to reign with Him on the Earth; you must be an over-comer! The secret is clear, He is already an overcomer for you and the victory is won. Living in that victory through faith and surrendering is the promise and work of His Holy Spirit. Paul said to the Roman Christians, "I beseech you therefore, brethren, by the mercies of God, that ye present your bodies a living sacrifice, holy, acceptable unto God, [which is] your reasonable service. And be not conformed to this world: but be ye transformed by the renewing of your mind, that ye may prove what [is] that good, and acceptable, and perfect, will of God."(Romans 12:1-2) The victory is already won and you can walk in that victory by His abundant grace. Being an over-comer is only possible when you abide in Him.