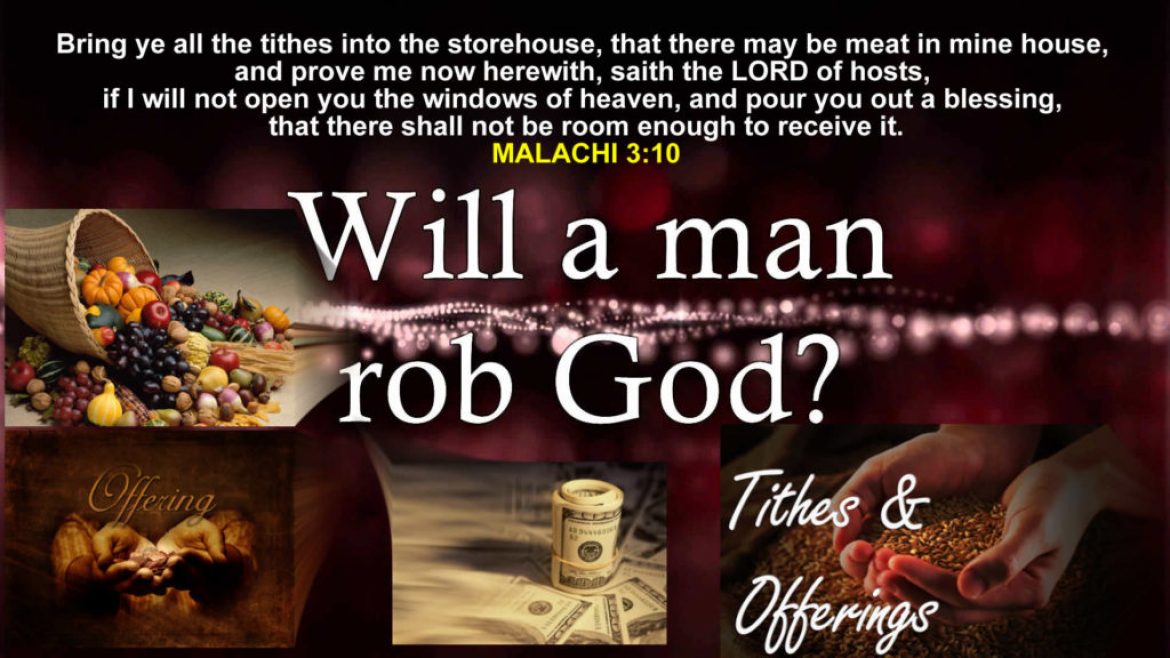 Your Bank Account is God's Treasure
 Malachi 3
8 Will a man rob God? Yet ye have robbed me. But ye say, Wherein have we robbed thee? In tithes and offerings.
9 Ye are cursed with a curse: for ye have robbed me, even this whole nation.
     Did you know that every good thing comes from the Lord Jesus Christ? He is the Lord of every treasure on this earth. Your bank account is the blessing from the Lord of the Harvest. It  cannot be a selfish possession but a treasure where you divide out your living. This treasure is from the Lord and His claim is 10% (tithes) as His portion. The Bible is emphatic that the 10% portion guarantees His blessing on the 90% left.
     There is no doubt that the 90% will bring more living to you than the 100% without His multiplication. Listen to the Bible declare this fact. "Will a man rob God? Yet ye have robbed me. But ye say, Wherein have we robbed thee? In tithes and offerings. Ye are cursed with a curse: for ye have robbed me, even this whole nation. Bring ye all the tithes into the storehouse, that there may be meat in mine house, and prove me now herewith, saith the Lord of hosts, if I will not open you the windows of heaven, and pour you out a blessing, that there shall not be room enough to receive it.  And I will rebuke the devourer for your sakes, and he shall not destroy the fruits of your ground; neither shall your vine cast her fruit before the time in the field, saith the Lord of hosts.  And all nations shall call you blessed: for ye shall be a delightsome land, saith the Lord of hosts." (Malachi 3: 8-12) Trust God and obey and you will be proud of the results.
     The Bible is literally filled with the promises of God to men and women who walk in harmony with His Divine will. I'm not talking about cheap, "name it, claim it" theology or using God as a religious Santa Claus. The Creator of our universe is a Heavenly Father, who cares more for the welfare of His children than the most benevolent dad on this earth. God has not established prosperity principles that even ungodly people can lock into as some preachers/writers have suggested. The Holy God, the only true and living God, and a jealous God, has set forth in the infallible Book, His Divine program. It is available to "whosoever" will surrender to live and trust Him.
     In fact, it even goes further. Our God has foreordained a life for each of His children. His plan for each person is bigger and greater than any person could ever dream for himself. He clearly has a perfect will for your life filled with His purpose and plan. Not a detail is missing. He wants to choose your lifelong marriage companion and direct in each decision you must make. Listen to the Holy Spirit, "And we know that all things work together for good to them that love God, to them who are the called according to his purpose. For whom he did foreknow, he also did predestinate to be conformed to the image of his Son, that he might be the firstborn among many brethren. Moreover whom he did predestinate, them he also called: and whom he called, them he also justified: and whom he justified, them he also glorified." (Romans 8: 28-30)
     We are clearly directed to, "Trust in the Lord with all thine heart; and lean not unto thine own understanding. In all thy ways acknowledge him, and he shall direct thy paths." (Proverbs 3: 5-6) He has an incredible plan for your life. Do you believe that you are capable of planning a course that will navigate you around the disasters that fill our world? He can and will.
Hear The Word of God
     "See, I have set before thee this day life and good, and death and evil; In that I command thee this day to love the Lord thy God, to walk in his ways, and to keep his commandments and his statutes and his judgments, that thou mayest live and multiply: and the Lord thy God shall bless thee in the land whither thou goest to possess it.  But if thine heart turn away, so that thou wilt not hear, but shalt be drawn away, and worship other gods, and serve them;  I denounce unto you this day, that ye shall surely perish, and that ye shall not prolong your days upon the land, whither thou passest over Jordan to go to possess it.  I call heaven and earth to record this day against you, that I have set before you life and death, blessing and cursing: therefore choose life, that both thou and thy seed may live: That thou mayest love the Lord thy God, and that thou mayest obey his voice, and that thou mayest cleave unto him: for he is thy life, and the length of thy days: that thou mayest dwell in the land which the Lord sware unto thy fathers, to Abraham, to Isaac, and to Jacob, to give them." (Deuteronomy 30: 15-20)
     This statement reveals the perfection of God's plan for your life. He created man to be the choice of His universe and to bring glory to His name by reflecting His beauty. When we shine with His perfection and show a Heavenly joy and completeness He is honored. He actually wants us to be so filled with an honorable life that glory is given by all back to Him. Like an earthly father, He is honored when His children are healthy, prosperous and shining lights of His blessings.
Our Holy God Cannot Tolerate Evil
     The God of the Holy Scripture is a Holy God that cannot tolerate evil. The gift of Jesus Christ as an atonement for sin forever settles the Holiness question. To suggest that God would give His Son as a sacrifice for sin and then add a kind of tolerance of sin in theology is blasphemous. "God is angry with the wicked every day. (Psalm 7: 11b) God fights against the wicked. "The ungodly are not so: but are like the chaff which the wind driveth away. Therefore the ungodly shall not stand in the judgment, nor sinners in the congregation of the righteous.  For the Lord knoweth the way of the righteous: but the way of the ungodly shall perish." (Psalm 1: 4-6) God's standard of holiness cannot be broken. Men may break themselves on His commandments, but they cannot break the commandment itself. Sin is the one and only destructive force in God's entire universe.
     Jesus Christ, the seed of Abraham, has become God's divine sacrifice to cleanse and destroy the curse of sin. Jesus actually stands between man and God as an offering for our guilt and a means of God's unfailing promises. Everything that sin has accomplished to destroy the grace of Jesus Christ has accomplished to redeem. The actual promise to Abraham in Deuteronomy 30 that is the theme of this introduction has been fulfilled in Jesus Christ. The Son of God (God-man) has secured the abundant life not just for the Jewish nation recognized in the original promise to Abraham, but now in Jesus Christ to both Jews and Gentiles, male and female, all alike. "There is neither Jew nor Greek, there is neither bond nor free, there is neither male nor female: for ye are all one in Christ Jesus.  And if ye be Christ's, then are ye Abraham's seed, and heirs according to the promise." (Galatians 3: 28-29)
     It is important for the true Christian disciples to become fully aware of our position in Jesus Christ. We have been grafted into the olive tree that we might be partakers of the "root and fatness" "And if some of the branches be broken off, and thou, being a wild olive tree, wert grafted in among them, and with them partakest of the root and fatness of the olive tree." (Romans 11: 17)
     Every promise to Abraham in the spiritual realm, including prosperity and blessings of sonship, we are absolutely assured of receiving if we live by faith as Abraham did.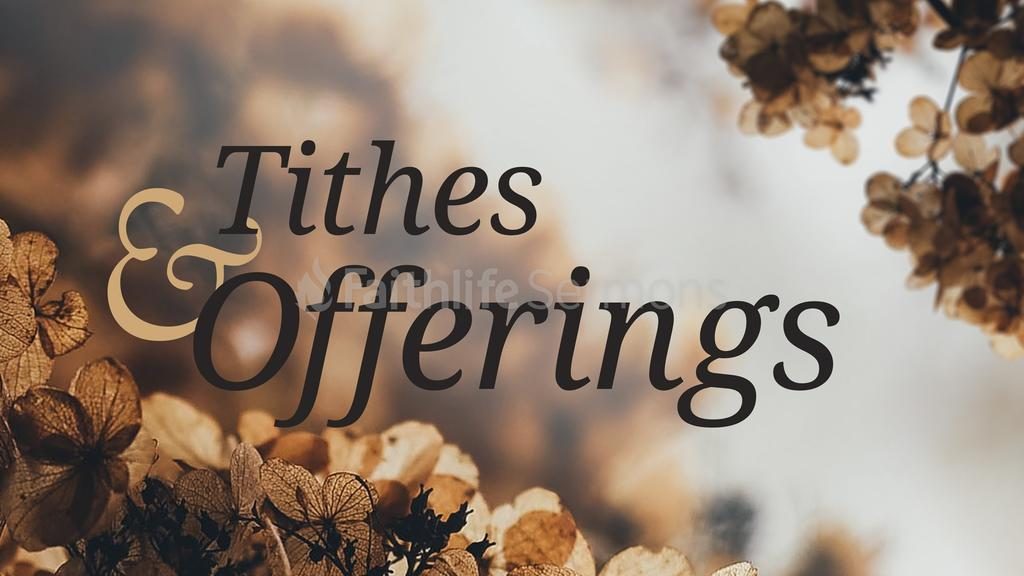 Matthew 5
20 For I say unto you, That except your righteousness shall exceed the righteousness of the scribes and Pharisees, ye shall in no case enter into the kingdom of heaven.
Do Not Mistake Israel's Unique Position
     One of the curses that the Gentile church has incurred is the result of our misunderstanding of Israel's unique place. While we are grafted into the Olive Tree, we do not replace the natural branches. They have a position with God that is irrevocable and irreplaceable. The fulfillment of this unique role is yet future and will happen as sure as the sun rose this morning. Remember, "Boast not against the branches. But if thou boast, thou bearest not the root, but the root thee. Thou wilt say then, The branches were broken off, that I might be grafted in. Well; because of unbelief they were broken off, and thou standest by faith. Be not highminded, but fear:" (Romans 11: 18-20) At God's time (Apparently, very soon) they will be saved by Jesus Christ all in one day.
All Israel Shall Be Saved
     You cannot understand your Abrahamic promises unless you understand God's plan for Israel. Many professing believers are "wise in their own conceit" and forget that Israel is intimately tied to our Abrahamic blessing. God has always had a remnant of the Jewish nation that trusted the Messiah Jesus Christ and the rest have been broken off that we might be grafted into the tree. Our blessings are tied to the Abrahamic Promises (the Olive Tree) which was completed in Jesus Christ, the seed of Abraham.
     Apostle Paul put this truth in proper perspective. "For I would not, brethren, that ye should be ignorant of this mystery, lest ye should be wise in your own conceits; that blindness in part is happened to Israel, until the fulness of the Gentiles be come in.  And so all Israel shall be saved: as it is written, There shall come out of Sion the Deliverer, and shall turn away ungodliness from Jacob: For this is my covenant unto them, when I shall take away their sins. As concerning the gospel, they are enemies for your sakes: but as touching the election, they are beloved for the father's sakes." (Romans 11: 25-28)
     Our election, foreknown by our Heavenly Father, assures us the same blessing and prosperity we have often seen in Jewish families. In Jesus Christ we are engrafted Jews sharing the fullness and fatness of the natural Olive Tree. There is not one Scripture in God's book that equates Holiness with poverty; neither, should we equate prosperity with holiness. Every life will be according to God's individual design and your love and devotion to His perfect will. Culture, location, and the general condition of where you were born and live will be part of God's plan. The wise writer of Proverbs stated, "Remove far from me vanity and lies: give me neither poverty nor riches; feed me with food convenient for me: Lest I be full, and deny thee, and say, Who is the Lord? or lest I be poor, and steal, and take the name of my God in vain." (Proverbs 30: 8-9)
     God, our Father, will plan for us a life that brings glory to Him, neither too much to make you proud, nor too little to make you hungry. You are Abraham's seed in Jesus Christ!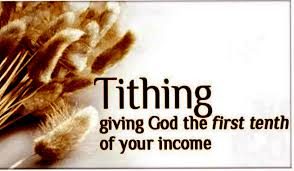 1 Corinthians 16
2 Upon the first day of the week let every one of you lay by him in store, as God hath prospered him, that there be no gatherings when I come.
3 And when I come, whomsoever ye shall approve by your letters, them will I send to bring your liberality unto Jerusalem.
Why Do the Wicked Prosper?
     The prosperity of the wicked is a totally different picture from the life of the righteous. What they accumulate and partially enjoy is not to compare with Godly blessing. First, their prosperity is short. The book of Job declares, "Knowest thou not this of old, since man was placed upon earth,  That the triumphing of the wicked is short, and the joy of the hypocrite but for a moment?" (Job 20: 4-5)
     Often a wicked person will seem to triumph over the Godly man or woman. In those times the righteous must reserve their judgment and continue to do what is right. No righteous person will ever know the glory of His blessings until they learn to leave the judgment of the wicked up to God.
     The Spirit and the Word said, "Fret not thyself because of evildoers, neither be thou envious against the workers of iniquity. For they shall soon be cut down like the grass, and wither as the green herb. Trust in the Lord, and do good; so shalt thou dwell in the land, and verily thou shalt be fed. Delight thyself also in the Lord: and he shall give thee the desires of thine heart.  Commit thy way unto the Lord; trust also in him; and he shall bring it to pass. And he shall bring forth thy righteousness as the light, and thy judgment as the noonday." (Psalm 37: 1-6)
     Do not rejoice when the wicked are judged. The Scripture has soundly taught us to leave all judgment up to God. Disobedience of the Biblical truth has diminished the lives of many of God's special children. Again, listen to His instruction: "Rejoice not when thine enemy falleth, and let not thine heart be glad when he stumbleth:  Lest the Lord see it, and it displease him, and he turn away his wrath from him. Fret not thyself because of evil men, neither be thou envious at the wicked:  For there shall be no reward to the evil man; the candle of the wicked shall be put out." (Proverbs 24: 17-20)
     Not only is the prosperity of the wicked short, it is also empty. Riches are an empty substitute for the joy of the Lord. No amount of wealth or accumulation of things will create a happy individual. In fact the more riches accumulated, the greater becomes the fear of losing them if they are a man's source of satisfaction. The wisdom of the Lord hath said, "The wicked flee when no man pursueth; but the righteous are bold as a lion." (Proverbs 28: 1)
     Again, wisdom hath said, "There is that maketh himself rich, yet hath nothing: there is that maketh himself poor yet hath great riches." (Proverbs 13: 7) Again, "The sleep of a laboring man is sweet, whether he eat little or much: but the abundance of the rich will not suffer him to sleep." (Ecclesiastes 5: 12)
Jesus Christ and Abundant Living
     Any understanding or study of Abundant Living that begins with Abundant Life itself will absolutely miss the mark. God's program for the New Testament family must begin with the Lord of the Church. There is only one reason that God will manifest Himself in you or anyone's life and that is to glorify the Son of God and make Him the joy of men. If and when Jesus Christ is exalted and lifted high for men to see and honor something incredible begins to happen. There is not a place in Scripture where Jesus Christ received the glory that was due His name that miracles did not occur. The first miracle of His ministry was at a wedding feast and appeared to satisfy only the physical appetites. Yet, its deeper significance was the glory and honor of the Son of God. Because of that miracle of abundance of wine, it was written, "This beginning of miracles did Jesus in Cana of Galilee, and manifested forth his glory; and his disciples believed on him." (John 2: 11)
     The church world has failed to rightly comprehend the desire to the Father to glorify His Son, Jesus Christ. The true success of the church "corporate" or the church "individual" is in the fact and question, "Is the Lord Jesus Christ revealed and exalted?" We know much of the historic Christ and the theology of Christology, but I fear we know little of the "Revealed Christ." When we know Him as Apostle Paul spoke of knowing Him and can say with the apostle, "I am crucified with Christ: nevertheless I live; yet not I, but Christ liveth in me: and the life which I know live in the flesh I live by the faith of the Son of God, who loved me, and gave himself for me." (Galatians 2: 20) then we have life.
     Again, this apostle said, "That I may know him, and the power of his resurrection, and fellowship of his sufferings, being made conformable unto his death." (Philippians 3: 10)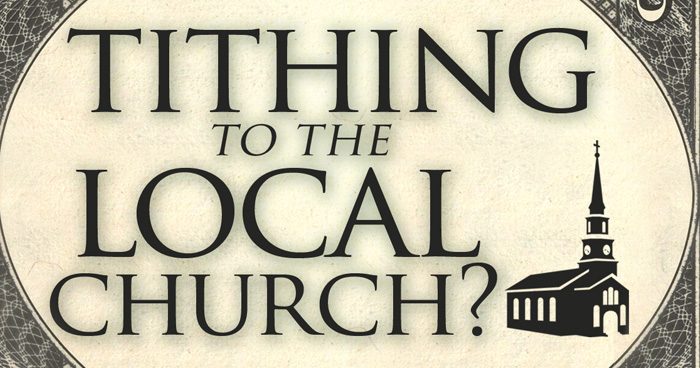 Hebrews 7
8 And here men that die receive tithes; but there he receiveth them, of whom it is witnessed that he liveth.
9 And as I may so say, Levi also, who receiveth tithes, payed tithes in Abraham.
10 For he was yet in the loins of his father, when Melchisedec met him.
The Sovereign Work of Grace
     "Even as Abraham believed God, and it was accounted to him for righteousness." (Galatians 3:6) That statement, incredible in its majesty, provides the foundation for the New Covenant relationship in Jesus Christ. This beautiful life full of the fatness of the Olive Tree is not the work of flesh or the results of good works. Only the Spirit of God using the infinite graces of Calvary, Christ's blood sacrifice, can create a new man in righteousness. This is what our Father foreordained before the foundation of the world. "Forasmuch as ye know that ye were not redeemed with corruptible things, as silver and gold, from your vain conversation received by tradition from your fathers; But with the precious blood of Christ, as of a lamb without blemish and without spot: Who verily was foreordained before the foundation of the world…" (I Peter 1: 18-20)
     We must understand the part we play and if we are to experience the fullness of this abundant life, we must never forget where our part ends. The Holy Spirit used the Apostle Paul to clearly describe the responsibility of man to the accomplishment of this great salvation. We present the man (body, soul, and spirit) in faith and surrender. We then abide in that state of surrender and total dependency. One moment of trust in our flesh stops the work of the Spirit. It is a sovereign work of God.
     Listen to the Spirit, "I beseech you therefore, brethren, by the mercies of God, that ye present your bodies a living sacrifice, holy, acceptable unto God, which is your reasonable service. And be not conformed to this world: but be ye transformed by the renewing of your mind, that ye may prove what is that good, and acceptable, and perfect, will of God. For I say, through the grace given unto me, to every man that is among you, not to think of himself more highly than he ought to think; but to think soberly, according as God hath dealt to every man the measure of faith." (Romans 12: 1-3)
     We must never trust in our flesh to save us and neither should we allow the weakness of our flesh to destroy us. Our life of victory must be experienced between these two extremes. The flesh aided by our enemy will never give up until it is disposed at our death or at the rapture. Man's cross that he must carry all the way to his glorious change is to deny his flesh whatever its message. Jesus was emphatic. "And he said to them all, If any man will come after me, let him deny himself, and take up his cross daily, and follow me." (Luke 9:23)
     It is an abiding state where all the glory of our Redeemer goes to the Lord Himself. If we abide we will be partakers of His fatness. The Lord of the church  could not have said it plainer. Hear His words, "I am the true vine, and my Father is the husbandman.  Every branch in me that beareth not fruit he taketh away: and every branch that beareth fruit, he purgeth it, that it may bring forth more fruit.  Now ye are clean through the word which I have spoken unto you. Abide in me, and I in you. As the branch cannot bear fruit of itself, except it abide in the vine; no more can ye, except ye abide in me.  I am the vine, ye are the branches: He that abideth in me, and I in him, the same bringeth forth much fruit: for without me ye can do nothing.  If a man abide not in me, he is cast forth as a branch, and is withered; and men gather them, and cast them into the fire, and they are burned. If ye abide in me, and my words abide in you, ye shall ask what ye will, and it shall be done unto you." (John 15: 1-7)
Abundant Living
     The last verse above represents a place in Christ where very few saints have traveled. "If ye abide in Christ and His words abide in you." That's total baptism into Jesus Christ. We are to live in complete surrender to Jesus and His Word. (The whole Bible is the written Logos (Word) just as He is the Living Logos (Word)). We are not talking about language, words from someone's mouth, but creative truth, eternally established statues and revelations. That's what we are to live in and by as we abide in complete truth to Jesus Christ as our all in all.
     Don't be satisfied to live like an orphan. If you are truly "Born Again" your life is to grow and mature in His glory and revelation. He desires to be revealed in you in such a manner that no one can look in your face and not see Jesus. "But we all with open face beholding as in a glass the glory of the Lord, are changed into the same image from glory to glory, even as by the Spirit of the Lord." (II Corinthians 3:18)