Why Jesus Heals The Sick and The Suffering: We Are Flesh of His Flesh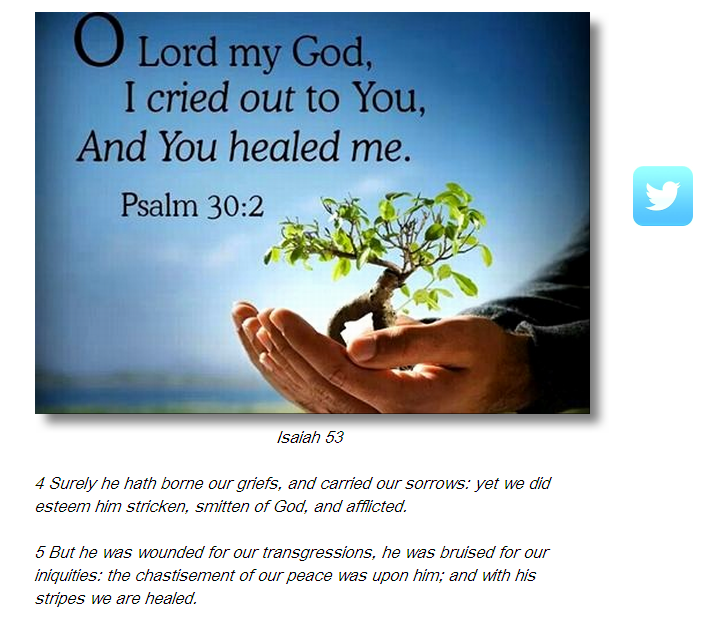 How important is your physical body?
Apostle Paul stated that "…your body is the temple of the Holy Ghost which is in you, which ye have of God, and ye are not your own." (I Corinthians 6:19b) That's powerful, but in speaking to the Ephesians he made another statement that is even more incredible. "For we are members of His body, of His flesh and of His bones." (Ephesians 5:30) Every "born again" believer is the Temple of the Holy Ghost but, also, we are "flesh of His flesh and bone of His bone." You cannot interpret the "Words" to these Ephesian Christians in any other fashion. Members of His flesh and bones mean we are His Extension and representative into our world or should I say His world.
In writing to the Corinthians Paul enlarged on His dependency of us as His ambassadors in the world. In five verses he described us by several fantastic names or statements. We are "new creatures" and have the "ministry of reconciliation." He hath committed to us "the word of reconciliation," we are "ambassadors for Christ," we "pray in Christ's stead" for others to be reconciled to God and hath been made "the righteousness of God in Him." Read it for yourself. "Therefore if any man be in Christ, he is a new creature: old things are passed away; behold, all things are become new. And all things are of God, who hath reconciled us to himself by Jesus Christ, and hath given to us the ministry of reconciliation. To wit, that God was in Christ, reconciling the world unto himself, not imputing their trespasses unto them; and hath committed unto us the word of reconciliation. Now then we are ambassadors for Christ, as though God did beseech you by us: we pray you in Christ's stead, be ye reconciled to God. For he hath made him to be sin for us, who knew no sin; that we might be made the righteousness of God in him." (II Corinthians 5:17-21)
We are not junk. When our Creator designed us, breathed into our nostrils the breath (Spirit) of life so that we became a living soul, He then stated, "And God saw everything that He had made and behold it was very good." (Genesis 1:31a) The words "living soul" are an incredible description of the human personality. It carries the meaning of health, prosperity, vitality, and life as given by God. It is clearly the opposite of death, disease and destruction. The only hindrance to this great life if the principle of sin and Jesus came to destroy the works of that principle and its originator, Satan. (I John 3:8)
The Psalmist stated, "I will praise thee; for I am fearfully and wonderfully made: marvelous are thy works; and that my soul knoweth right well." (Psalm 139:14) We are a tremendous creation. God created us as His family. Our bodies are uniquely designed and have the capacity to possess the very spirit of God. We are indeed "…of more value than many sparrows," said Jesus. (Matthew 10:31) He also stated, "But the very hairs of your head are all numbered." (Matthew 10:30) You are important to the Lord!
And The Word (Jesus) Was Made Flesh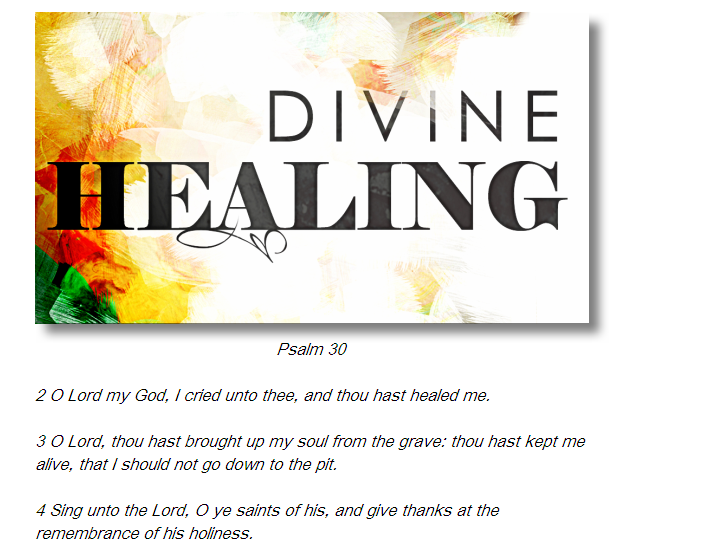 Nothing Jesus said or did can emphasize the importance of human flesh and bones more than the fact that He partook of the same. God, the Son, actually left the glory of the Father to descend into the human family and become a servant for redemption. My soul always flashes with excitement when I read, "And the Word (Eternal Logos) was made flesh and dwelt among us, and we beheld His glory, the glory as of the only begotten of the Father, full of grace and truth." (St. John 1:14)
The Divine Son who became human flesh literally fills the book of Hebrews. Paul stated, "Forasmuch then as the children are partakers of flesh and blood, He also Himself likewise took part of the same; that through death he might destroy him (Satan) that had the power of death, that is, the devil." (Hebrews 2:14) You cannot show your love for anything better than to descend into that state. He came for one reason and He stated it as the following. "This is my body, which is given for you." (St. Luke 22:19) Jesus chose a human body by which to minister and redeem mankind.
Our sanctification is accomplished by His body. The Holy Scripture teaches that without the shedding of blood there is no remission. (Hebrews 9:22) Paul quoted Jesus as saying, "Lo, I come to do thy will, O God, " and added, "By the which will we are sanctified through the offering of the body of Jesus Christ once for all." (Hebrews 10:9-10) He had come in a body and now He needs your body to continue His works.
He Bought Your Body
Redemption is not head knowledge, but a heart transplant. We actually become new creatures and give up all rights to ourselves. We become His flesh, "For we are bought with a price: therefore, glorify God in your body, and in your spirit, which are God's" (I Corinthians 6:20) This may sound restricting to selfish and self- centered people but to the Child of God it's our liberty. Because we are "flesh of His flesh," our body becomes of intrinsic value. This is the basis for true Biblical teaching in "Divine Healing." If we are "flesh of His flesh," we then partake of all His life and sit together with Him in Heavenly places.
The Holy Spirit that anointed Jesus has now been given to anoint us. Jesus was tempted in all points like as we are but He was never overcome with disease. His very presence was so full of life that sickness, torment, vexation and demons fled as He approached or spoke. Now we are told by Apostle Paul, "I beseech you therefore by the mercies of God that ye present your bodies a living sacrifice, holy, acceptable unto God, which is your reasonable service." (Romans 12:1) Our security is in our submission. If we are in control we must use human methods to protect or heal ourselves, but if He is in control He protects and heals. There is no "Divine Healing" for ourselves or as we minister Jesus to others until we are "flesh of His flesh."
He saved you for Himself. He delivers you from sin so that He has another body for His Holy Ghost to dwell. He now fills you with His Holy Ghost that your body may be His place of revelation. He wants to reveal Himself to your family, neighbors, working friends, and everyone you meet. You are His ambassador. The Holy Book says, "Neither yield ye your members as instruments of unrighteousness unto sin: but yield yourselves unto God, as those that are alive from the dead, and your members as instruments of righteousness unto God." (Romans 6:13)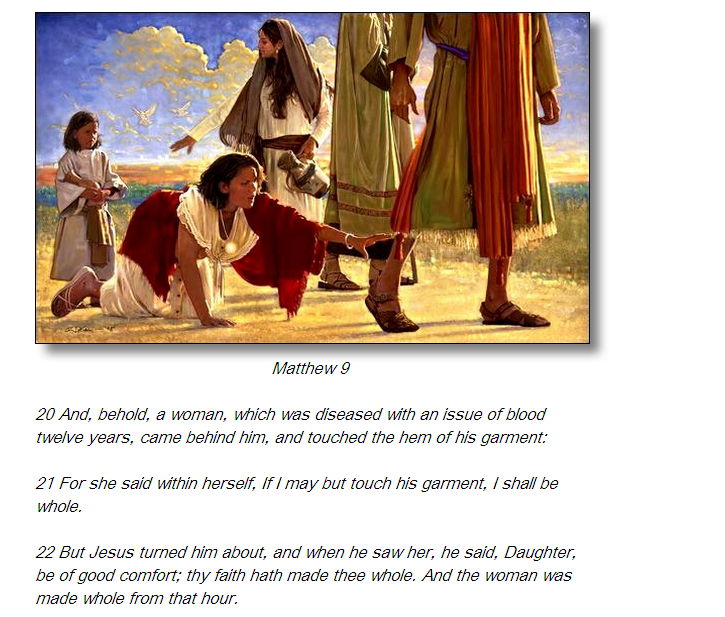 We Are His Body On Earth
Jesus Christ is the head of the church and we are the body. He is the invisible head and high priest who sits at the Father's right hand but we are the visible arms and legs. That's why He said, "Greater works than these shall he (those that believe) do; because I go unto my Father." (St. John 14:12) Those greater works that Jesus spoke of have been witnessed on numerous occasions since He spoke them. Smith Wigglesworth and John G. Lake are two such examples. Here is a testimony from Smith Wigglesworth.
"I had many telegrams to go to a place near Grantham to a young man who was very dangerously ill. After I arrived at Grantham I had nine miles to go by bicycle. When I came to that farm house that afternoon a woman at the door asked, "Are you Wigglesworth?" I replied, "Yes." She said, "I am sorry to say that you are too late. My son is beyond anything being done for him now." I answered, "God has never sent me anywhere too late."
"I asked if I could see the young man. He lay in his bed with his face toward the wall and whispered that if he was turned over he would die, for his heart was so weak. 'Well,' I said, I'll pray for the Lord to strengthen you. In most of my work in those early days I used to pray much and fast. I knew that this case was beyond all human hopes, and so I lay awake most of the night praying. I got up very early the next morning and went out to an adjoining field to pray, for I was very much burdened about this case. There in that field God gave me a revelation that this had to be something new in my life."
"I went into the house and asked them to put their son's clothes to air because the Lord would raise him up. In that part of England the climate is very damp, so I knew it would be necessary for them to put his clothes before a fire before he could wear them. But they did not believe and so did not do anything about his clothes."
"That was Sunday morning and I knew that there was a service at the Primitive Methodist Chapel. I went to the service and was invited to take charge. Through the word of the Lord, faith was planted in the hearts of all those people, and then something happened. They all knew that young man by name, and they all said, 'Matthew will be raised up!' That led me to see that faith could be created in others just as it had been created in me, and I went back to that house and said, 'Have you put his clothes to air?' I think they were a little ashamed that they had done nothing, so they got out his clothes and put them before the fire. Then I went into the room and told the young man the vision I had, and said that something would happen different from anything that I had experienced before. I said, 'When I place my hands on you the glory of the Lord will fill the place till I shall not be able to stand. I shall be helpless on the floor.' I went out and got his clothes, and said to one of the household, 'All I want you to do is put his stockings on him."
"Why I had asked them to put his stockings on is a mystery. His legs were like those of a skeleton and I saw his helplessness, and knew that a miracle would have to be performed. After this member of the household had put the stockings on the young man I said, 'Now you can leave the room."
"They shut the door. I think it is a very important thing to have the door shut when you have a case like this to deal with, for then you know that you are just shut in with God. I prayed for the vision to be made good, and instantly, the moment I touched the young man, the power of God filled the room and was so powerful that I fell to the floor. My nose and my mouth were touching the floor and I lay there in the glory for a quarter of an hour. All that while Matthew in the bed was shouting, 'Lord, this is for Thy glory! This for Thy glory!' The bed simply shook, as did everything in the room, by the power of God. Matthew's strength, his life, and his heart (which was considered the weakest thing about him) were all renewed. I was still on the floor in the glory when he arose from his bed and began to dress. After he was dressed he began to walk up and down the room shouting, 'I'm raised up for Thy glory! I'm raised up for Thy glory!' Opening the door he shouted, 'Dad, God has healed me. I'm healed!' The same glory filled the kitchen; the father and mother fell down; and the daughter who had been brought from the asylum and whose mind was still affected was made perfectly whole that day."
"That whole village was moved and a revival began that day. I went into that village unnoticed and unknown, but when I left all the village turned out and shouted", "Please come back, please com back, and stop with us longer next time." (Smith Wigglesworth, Apostle of Faith, Stanley Howard Frodsham, pages 49-51).
Paul spoke of the church as the body of Christ with many spiritual gifts and great Holy Ghost authority. "If the whole body were an eye, where were the hearing? If the whole were hearing, where were the smelling? But now are they many members, yet but one body. And the eye cannot say unto the hand, I have no need of you. Nay, much more those members of the body, which seem to be more feeble, are necessary. And those members of the body, which we think to be less honourable, upon these we bestow more abundant honour; and our uncomely parts have more abundant comeliness. For our comely parts have no need: but God hath tempered the body together, having given more abundant honour to that part which lacked: That there should be no schism in the body; but that the members should have the same care one for another. And whether one member suffer, all the members suffer with it; or one member be honoured, all the members rejoice with it. Now ye are the body of Christ, and members in particular. And God hath set some in the church, first apostles, secondarily prophets, thirdly teachers, after that miracles, then gifts of healings, helps, governments, diversities of tongues. Are all apostles? Are all prophets? Are all teachers? Are all workers of miracles? Have all the gifts of healing? Do all speak with tongues? Do all interpret? But covet earnestly the best gifts." (I Corinthians 12:17-31)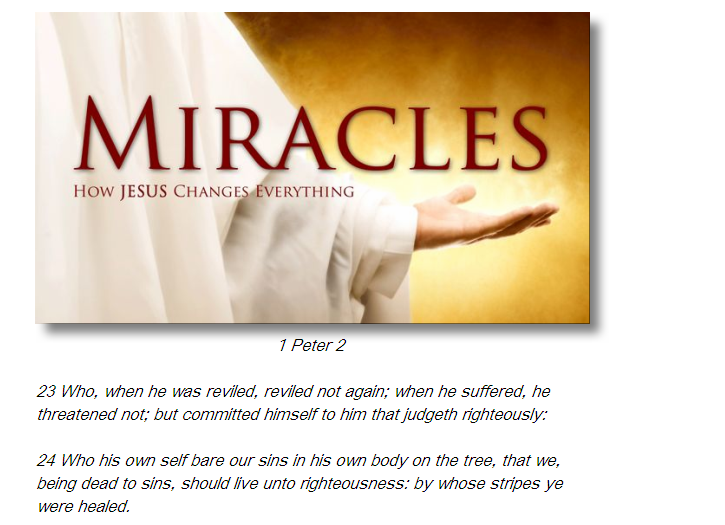 He wants His body healed, healthy, and victorious. It is easy now to understand that we are "flesh of His flesh." When He sent out the seventy, they returned rejoicing that the devils were subject unto them. Jesus then said, "…I beheld Satan as lightning fall from heaven. Behold, I give unto you power to tread on serpents and scorpions, and over all the power of the enemy; and nothing shall by any means hurt you. Notwithstanding, in this rejoice not that the spirits are subject unto you; but rather rejoice, because your names are written in heaven." (St. Luke 10:18-20)
Notice these words, "Nothing shall by any means hurt you." But sir, you say, I know of this person and that person who died with cancer, who was killed in a car wreck or who fell dead of a heart attack. Don't judge God's promises by the effeminate religion you have witnessed in this generation. There have been so many extremes in the religious world that we have forgotten the promises of Jesus Christ.
Let's find the center of God's Word and live right there. The Holy Ghost said, "Who His (Jesus) own self bare our sins in His own body on the tree, that we, being dead to sins, should live unto righteousness: by whose stripes ye were healed." (I Peter 2:24)
That settles it. "By whose stripes ye were (past tense) healed." It is finished, done, accomplished, and doesn't need anything but your "embrace of faith." As a child of God ye are "flesh of His flesh" and He wants you witnessing to your world of His sufficiency in all things.

Live Streaming
Don't Miss Our Live Streaming Broadcast of Open Bible Dialogue

Every Saturday at 1:00 pm Eastern
** Click Here **
Powerful Study Guides and Books for your Spiritual Growth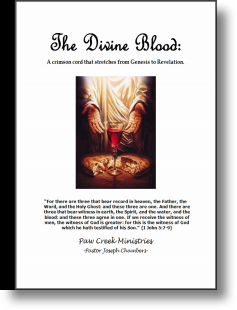 <!—END -- (Book Codes) Section -->

SuperCounters