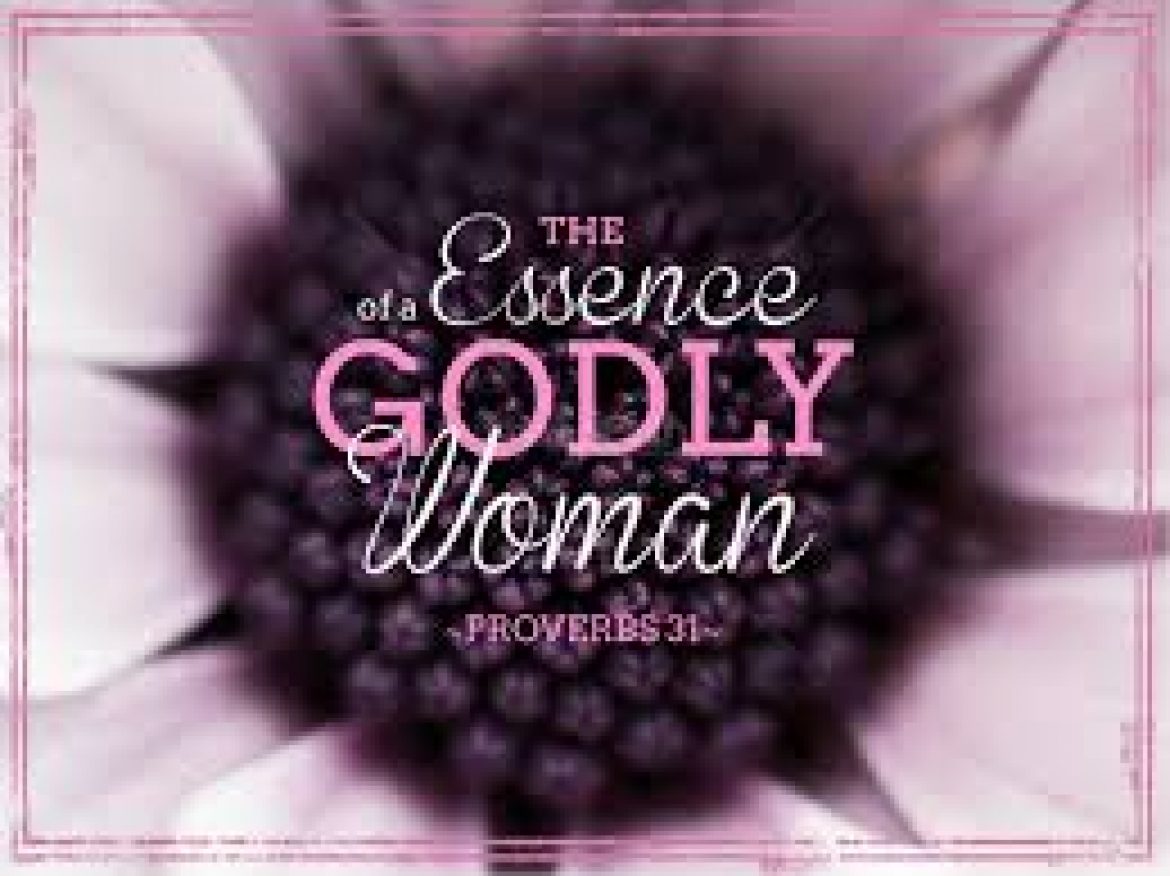 The Glory of a Virtuous Woman
 Genesis 2
18 And the Lord God said, It is not good that the man should be alone; I will make him an help meet for him.
     If the love of a man for his wife is the fountain of family bliss, then the virtue of the wife is the crown of her husband. Remember, that the crown of a king is the visible expression of his authority.  So is a virtuous woman to her husband.  She is the visible evidence in the home and the community of a man who has laid the foundation of greatness.  The biblical family Book of Proverbs says, "A virtuous woman is a crown to her husband: but she that maketh ashamed is as rottenness in his bones." (Proverbs 12:4).
      We have clearly shown that every man is ordained to build a house or be the possessor, yet the Scripture shows that the wife shares in this responsibility and glory.  Man is incomplete in all his task without his wife.  It is an inheritance shared.  Neither are complete without the other and the man is probably more incomplete alone than the wife.  We actually find two cases in Acts of the Apostles where a woman appears to be sole possessor of a house. 
     Apparently, the husband was either dead or had forsaken her.  Lydia was a seller of purple.  It was said of her, "And a certain woman named Lydia, a seller of purple, of the city of Thyatira, which worshipped God, heard us: whose heart the Lord opened, that she attended unto the things which were spoken of Paul. And when she was baptized, and her household, she besought us, saying, If ye have judged me to be faithful to the Lord, come into my house, and abide there. And she constrained us."  (Acts 16:14-15).
     The Scripture stated, "when she was baptized, and her household" and "If ye have judged me to be faithful to the Lord, come into my house."  Again, Luke stated, "And they went out of the prison, and entered into the house of Lydia: and when they had seen the brethren, they comforted them, and departed."  (Acts 16:40).
     This certainly shows that a wife can claim the covenant of God upon her house if she is deprived of her husband or he is remiss of his duty.  We, also, discover in Acts the house of Mary the mother of John Mark.  The Scripture states, "And when Peter was come to himself, he said, Now I know of a surety, that the Lord hath sent his angel, and hath delivered me out of the hand of Herod, and from all the expectation of the people of the Jews. And when he had considered the thing, he came to the house of Mary the mother of John, whose surname was Mark; where many were gathered together praying."  (Acts 12:11-12).  Luke expressively calls this home "the house of Mary".  If the husband had been alive and present, there is no question but that Luke would have addressed it as the house of Mark.
     The single mother who has been forsaken by her husband or left a widow by his death has a special promise from the Holy Scripture.  The Heavenly Fahter has made a covenant with the widow or a fatherless child.  "A father of the fatherless, and a judge of the widows, is God in his holy habitation."  (Psalms 68:5). "Leave thy fatherless children, I will preserve them alive; and let thy widows trust in me." (Jeremiah 49:11).  "Asshur shall not save us; we will not ride upon horses: neither will we say any more to the work of our hands, Ye are our gods: for in thee the fatherless findeth mercy."  (Hosea 14:3).  "Ye shall not afflict any widow, or fatherless child.  If thou afflict them in any wise, and they cry at all unto me, I will surely hear their cry."  (Exodus 22:22-23).  It's breathtaking how carefully the Holy Scripture makes provision for every possible need in His covenant with the family.
     Throughout the Book of Proverbs the writer speaks of the house of the man or the women interchangeably.  This book purposely emphasizes that the husband and the wife have shared responsibilities.  He is the fountain and she is the crown.  Solomon said, "Every wise woman buildeth her house: but the foolish plucketh it down with her hands." (Proverbs 14:1).
     No man can succeed in building a great house until he succeeds in making his wife a joint heir in the project.  Equally, the virtuous woman find delight in being the crown of her husband.  She does not compete with him for the duty of being the fountain.  Authority and strength flows from the husband, but the wife gives it her support by being the finishing touch.  She acts in his authority and not in her own authority and actually shares his strength as well as her own strength in the process.  No wonder such a virtuous woman is called "the crown of her husband."
A Brawling Woman Is Trouble
     No body is more unhappy and unfulfilled than a contentious woman.  This is emphasized in Scripture as a warning to all women.  "A foolish son is the calamity of his father: and the contentions [strife] of a wife are a continual dropping." (Proverbs 19:13).  "It is better to dwell in a corner of the housetop, than with a brawling [noisy quarreling]woman in a wide house." (Proverbs 21:9). "A continual dropping in a very rainy day and a contentious [quarrelsome] woman are alike." (Proverbs 27:15).  "For three things the earth is disquieted, and for four which it cannot bear: For a servant when he reigneth; and a fool when he is filled with meat; For an odious [hateful] woman when she is married; and an handmaid that is heir to her mistress." (Proverbs 30:21-23).  Listen to the terms which the Holy Spirit chose for warning:  a contentious woman, a brawling woman; an odious woman when she is married, etc.
     There are many examples of such women in the Scripture and the resulting calamity.  Isaiah cried out against self-indulgent women who are given to pleasure.  "Rise up, ye women that are at ease; hear my voice, ye careless daughters; give ear unto my speech. Many days and years shall ye be troubled, ye careless women: for the vintage shall fail, the gathering shall not come.  Tremble, ye women that are at ease; be troubled, ye careless ones: strip you, and make you bare, and gird sackcloth upon your loins.  They shall lament for the teats, for the pleasant fields, for the fruitful vine.  Upon the land of my people shall come up thorns and briers; yea, upon all the houses of joy in the joyous city."  (Isaiah 32:9-13).
     Solomon spoke of a whorish woman who is subtle and deceitful.  "To keep thee from the evil woman, from the flattery of the tongue of a strange woman. Lust not after her beauty in thine heart; neither let her take thee with her eyelids.  For by means of a whorish woman a man is brought to a piece of bread: and the adulteress will hunt for the precious life.  Can a man take fire in his bosom, and his clothes not be burned?  Can one go upon hot coals, and his feet not be burned?  So he that goeth in to his neighbour's wife; whosoever toucheth her shall not be innocent."  (Proverbs 6:24-29).
     Paul wrote of silly women. "For of this sort are they which creep into houses, and lead captive silly women laden with sins, led away with divers lusts." (2 Timothy 3:6).
     The Scripture speaks of women who leave the natural use of men. "For this cause God gave them up unto vile affections: for even their women did change the natural use into that which is against nature." (Romans 1:26).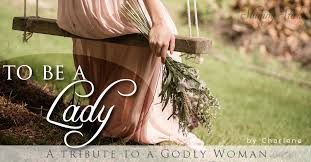 Proverbs 31
29 Many daughters have done virtuously, but thou excellest them all.
30 Favour is deceitful, and beauty is vain: but a woman that feareth the Lord, she shall be praised.
31 Give her of the fruit of her hands; and let her own works praise her in the gates.
     Also, we read of women who promote superstition and idolatry. There is a very ugly picture in Scripture of the devastation caused when the "crown of man" leave their lofty place of holiness to follow their own devices. 
     When the Scripture calls women the crown of man, it is more than a husband and wife relationship.  She is actually the crown of mankind; of the entire race of man.  Her failure to hold up the creative beauty of man brings great destruction into the human family.  Women are the mirrors of the culture in general.  It just cannot be said better than to say that they are the "crown" of both their husband and the society.  When women forsake their "crown" it is as when the king loses his authority and bedlam is unleashed on his kingdom.
The Price Of A Virtuous Woman
     It has always been a mystery to me to hear and read the different evaluations of what constitutes a woman's role in the home and society.  Much of what I have heard does not fit the biblical model.  Maybe the problem is in the changing culture and in the industrial resolution and our failure to view Scripture as applicable.  The debate between those who believe a woman's place is in the home only and those who allow a twin role will probably never be fully solved.  At least let's shine a little light on the debate.
     We start with a very lengthy Scripture.  Do not skip a word of this incredible picture of a virtuous woman.  "Who can find a virtuous woman? for her price is far  above rubies.  The heart of her husband doth safely trust in her, so that he shall have no need of spoil.  She will do him good and not evil all the days of her life.  She seeketh wool, and flax, and worketh willingly with her hands.  She is like the merchants' ships; she bringeth her food from afar.  She riseth also while it is yet night, and giveth meat to her household, and a portion to her maidens.  She considereth a field, and buyeth it: with the fruit of her hands she planteth a vineyard.  She girdeth her loins with strength, and strengtheneth her arms.  She perceiveth that her merchandise is good: her candle goeth not out by night.  She layeth her hands to the spindle, and her hands hold the distaff.  She stretcheth out her hand to the poor; yea, she reacheth forth her hands to the needy.  She is not afraid of the snow for her household: for all her household are clothed with scarlet.  She maketh herself coverings of tapestry; her clothing is silk and purple.  Her husband is known in the gates, when he sitteth among the elders of the land.  She maketh fine linen, and selleth it; and delivereth girdles unto the merchant.  Strength and honour are her clothing; and she shall rejoice in time to come.  She openeth her mouth with wisdom; and in her tongue is the law of kindness.  She looketh well to the ways of her household, and eateth not the bread of idleness.  Her children arise up, and call her blessed; her husband also, and he praiseth her.  Many daughters have done virtuously, but thou excellest them all.  Favour is deceitful, and beauty is vain: but a woman that feareth the LORD, she shall be praised.  Give her of the fruit of her hands; and let her own works praise her in the gates."  (Proverbs 31:10-31).
     This godly woman described by Scripture as having a priceless value was a veritable industry in herself.  She was a farmer raising her food and flax, a herdswoman raising her wool; a wise realtor purchasing property, a creator and maker of fine cloths and silks, etc. and used her spare time to care for the poor and hurting.  Everything she does is of the finest quality so that she can sell it in the marketplace and provide her family with a house suited for kings.  Her husband is so secure in her treasures that he does not need to seek spoil to be rich.  In fact, he has time to give direction to society and serve in high place of government (without being on the public treasury) and secure protection for the culture.
     This lady did not enjoy the pleasure of automation and our advanced society but she was the crown of her household.  Her children and husband called her blessed and found incredible pleasure in her love and faithfulness.  You can settle in your mind that she would have never traded her place for the most modern wife of our present world.  Television would have been an unwelcome intrusion into her home.
     Probably this Scripture was a microcosm of a virtuous woman rather than just the picture of one individual.  Even so, every virtue and dedication represented should be exemplary of a godly wife and mother.  Her joy is not the next performance at the art center or bridge game at the neighbor's house, but her family and the pleasure of their world of plenty and blessing.  She lived for purpose and meaning.  The Scripture emphatically stated, "But she that liveth in pleasure is dead while she liveth."  (1Timothy 5:6).
     Notice that this great passage of Scripture shows her accomplishments as reflecting in the gates of the city.  The gates were the city's security and where her husband set with the men of rulership.   Her virtue and dedication is the crown of her husband and he adds strength to their society by her praise in the gates.  The men who hold the helm of our society, our churches and our homes are themselves no greater than these women they have as a partner.  We are heirs together.
     Apostle Peter stated, "Likewise, ye husbands, dwell with them according to knowledge, giving honour unto the wife, as unto the weaker vessel, and as being heirs together of the grace of life; that your prayers be not hindered." (1Peter 3:7).  The chauvinistic man is an extremely small person and unfit for greatness.  We are heirs together and must share our sorrows or joys as one soul.  A man is very small without the woman.  "Nevertheless neither is the man without the woman, neither the woman without the man, in the Lord. For as the woman is of the man, even so is the man also by the woman; but all things of God."  (1Corinthians 11:11-12).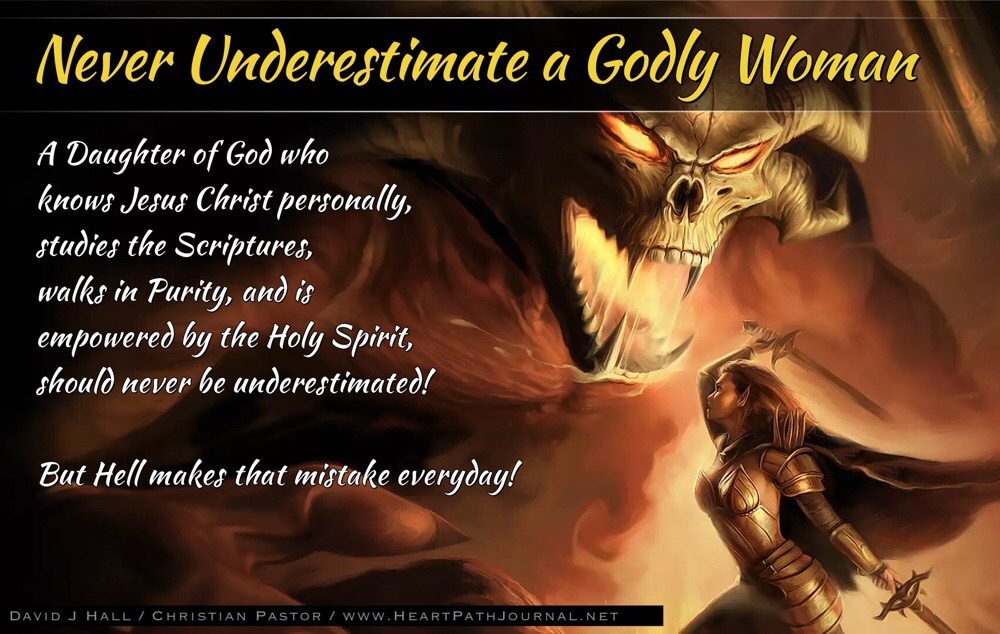 1 Timothy 2
9 In like manner also, that women adorn themselves in modest apparel, with shamefacedness and sobriety; not with broided hair, or gold, or pearls, or costly array;
10 But (which becometh women professing godliness) with good works.
A Mother And Her Children
     There is no place or position among men that is higher than a mother raising her children.  It has been wisely said, "She that rocked the cradle rules the world."  An accepted widow in the early church had to have been faithful to her family.  "Let not a widow be taken into the number under threescore years old, having been the wife of one man, Well reported of for good works; if she have brought up children, if she have lodged strangers, if she have washed the saints' feet, if she have relieved the afflicted, if she have diligently followed every good work. But the younger widows refuse: for when they have begun to wax wanton against Christ, they will marry; Having damnation, because they have cast off their first faith.  And withal they learn to be idle, wandering about from house to house; and not only idle, but tattlers also and busybodies, speaking things which they ought not.  I will therefore that the younger women marry, bear children, guide the house, give none occasion to the adversary to speak reproachfully."  (1Timothy 5:9-14). 
     Faithfulness to her husband and her children was demanded by society and the church.  "Bringing up children" is an interesting principle.  The Second Testament does not say very much about this responsibility because the Second Testament is integrated with the First Testament.  The Jewish mindset of family responsibility was clearly set in the law, the prophets and the writings.  There was no need to repeat what was clearly set.  What the church needs to remember is that those principles of the family are no different in the First and Second Testament.  The Bible is a whole book.  All we need to do is obey the Psalms, the Proverbs, the laws (except those ceremonial and ritualistic types as fulfilled in Christ's death) and the prophets.
     "Bringing up children" includes instilling the laws of God in their minds and hearts so that they never depart.  "And these words, which I command thee this day, shall be in thine heart: And thou shalt teach them diligently unto thy children, and shalt talk of them when thou sittest in thine house, and when thou walkest by the way, and when thou liest down, and when thou risest up. And thou shalt bind them for a sign upon thine hand, and they shall be as frontlets between thine eyes.  And thou shalt write them upon the posts of thy house, and on thy gates."  (Deuteronomy 6:6-9).  "Gather the people together, men, and women, and children, and thy stranger that is within thy gates, that they may hear, and that they may learn, and fear the LORD your God, and observe to do all the words of this law:  And that their children, which have not known any thing, may hear, and learn to fear the LORD your God, as long as ye live in the land whither ye go over Jordan to possess it."  (Deuteronomy 31:12-13). 
     Then children are commanded to keep the laws and commandments that the father and mother have taught.  "My son, keep thy father's commandment, and forsake not the law of thy mother:  Bind them continually upon thine heart, and tie them about thy neck.  When thou goest, it shall lead thee; when thou sleepest, it shall keep thee; and when thou awakest, it shall talk with thee.  For the commandment is a lamp; and the law is light; and reproofs of instruction are the way of life."  (Proverbs 6:20-23).
     All a mother needs to do is to emphatically obey the Holy Scripture and teach her children to do the same.  They need the truth, but they need it in proper proportions to your love, interest and patience.  Just telling the truth is elementary; exemplifying it to them by years of faithful mothering is powerful beyond measure.  Your life is a living epistle of truth or error.  "Bringing up children" is a positive term and is the opposite of "tearing them down."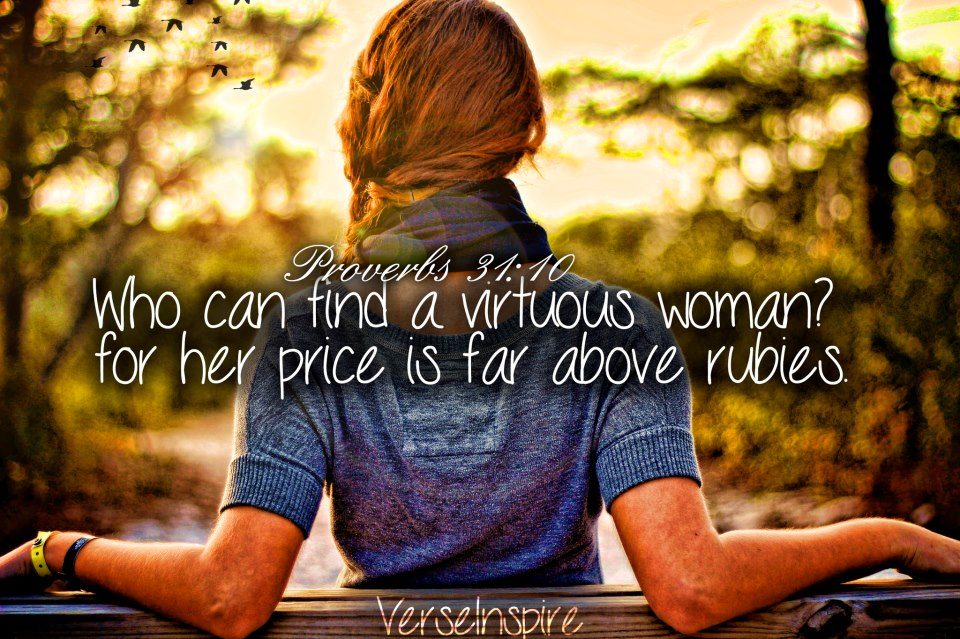 Matthew 6
33 But seek ye first the kingdom of God, and his righteousness; and all these things shall be added unto you.
34 Take therefore no thought for the morrow: for the morrow shall take thought for the things of itself. Sufficient unto the day is the evil thereof.
A Godly Woman And Her Attire
     The man's attire is not as big a matter as the women's  Often the women of the church have felt like we were picking on them and probably ministers who didn't do much preparing have earned us this accusation.  It's hard to find any religious writing on theological materials before the middle of this century that did not put great stress on godly attire.  Yes, they are standards that men should follow, but a simple restriction settles the question for them.
     Godly women and their lifestyle has always been the test of a society's strength or weakness.  There is no possible return to the biblical family without a return to biblical standards.  I could write a list of things I believe reflect biblical standards, but I would need this entire book to establish and support my expression.  You, as an individual, need to read the entire Holy Bible with a commitment to obey its principles and teachings.  They are extremely plain and very thorough.
     The Bible makes an unfailing distinction between male and female, husband and wife.  Every society that has forsaken that distinction has watched as the spirit of homosexuality and lesbianism wrecked its offspring.  It takes two or three generations for the spirit of failure and disobedience to really show the results.  I preach regularly in the open air on the university campus in our city.  What I see in the lives of these precious students is what mother and dad began in the early day of their life.  The youth always takes each disobedience of Holy Scripture to another lower level.  The third generation is always where the fury of hell is unleashed. 
     The godliness (or absence thereof) of women is an incredible power affecting children.  Your simple and modest dress and lifestyle will create a respect for the body and its sacredness.  You will cause your family to see beauty in modesty instead of a display of flesh.  It will affect their choice of a wife or a husband.  Instead of looking for a sex object, they will look for a person of value.  You create that value by being the crown of your home, your husband, your family in all of life's expressions.
Conclusion
     The Bible is filled with great women.  Deborah was a judge, a prophetess and a military leader.  Miriam was a poet and singer.  Esther was a brave queen, willing to die for her people.  Phillip's four daughters were prophetesses.  Lois was Timothy's grandmother and Eunice was his mother.  Paul said that the faith of Timothy first dwelt in the grandmother and mother.  That is God's model for every mother and grandmother.  They had a faith so real and powerful that Timothy could not escape the covenant of these godly women.  The Book of Acts states plainly that his mother was a believer, but his father was a greek and, apparently, an unbeliever (Acts 16:1).  Here is a clear picture of a godly mother that established a covenant with God for her son even though the father did not follow the Lord.  A virtuous woman is the crown of her husband.  The strength of such godliness cannot be underestimated.  Let us now move to the redemptive power of biblical discipline.  God's theology for the family is exciting to discover!