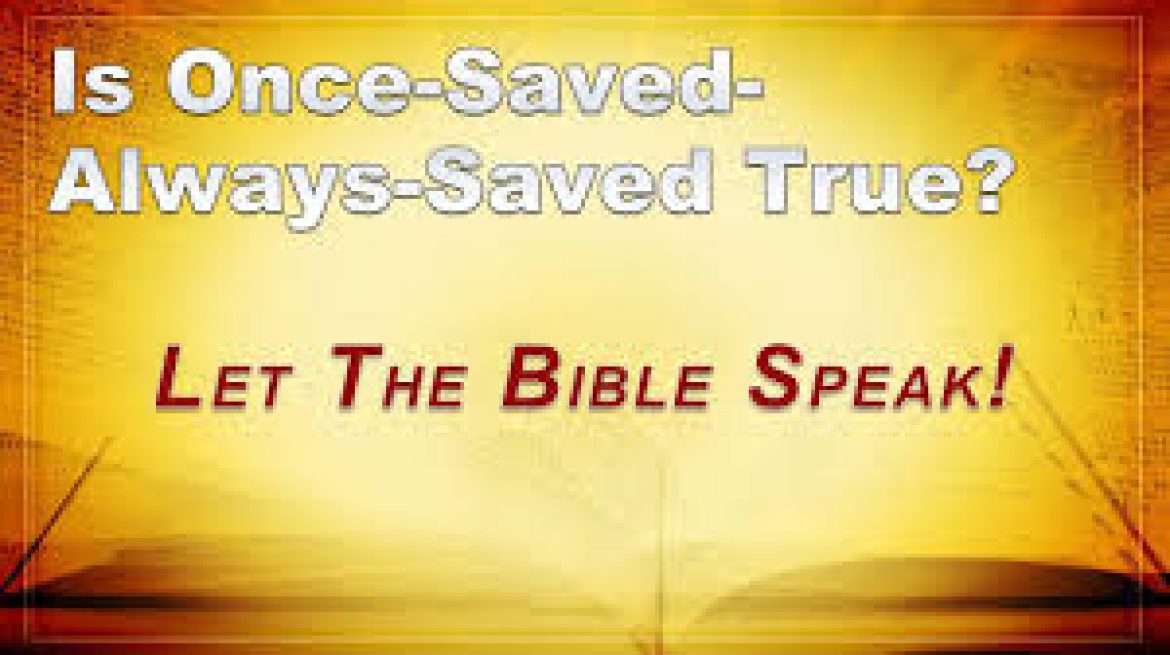 Once Saved, Always Saved: Lie or Truth?
 1 Corinthians 9
27 But I keep under my body, and bring it into subjection: lest that by any means, when I have preached to others, I myself should be a castaway.
 I'm sick of religion that claims the privileges of God, but refuses the responsibilities of God.  I find it even more sickening when these claims are made on God's marvelous grace as though grace can be reduced to something cheap and tolerating of willful and known sin.  Paul addressed this subject when he said, What shall we say then, shall we continue in sin, that grace may abound?  God Forbid!  How shall we that are dead to sin live any longer therein?" (Romans 6:1-2).    
 "Biblical Eternal Security" is one of the Holy Book's most precious commodities.  To suggest that we must make our entrance into our Heavenly reward by great fear and intimidation is unsound.  To ever conclude that God will cast us off because of some human error or weakness does not fit His great love and forgiveness.  We are clearly written on His heart.  His patience is higher than all human understanding.  Yet, to use such love as an open door to sin and wickedness or to suggest that this love will tolerate human carelessness and unbridled rebellion is a travesty of Calvary.     
Scriptural eternal security certainly has a counterpart, as all Biblical truths do.  Satan is the master counterfeiter.  For every Biblical doctrine our archenemy has produced a counterfeit.  The Trinity of God — beautifully expressed in the Father, Son and Holy Ghost — is deceptively reproduced by Satan in a Jesus-only concept that does great injustice to the Scripture.     
The Holy Ghost baptism and its initial evidence — speaking in other languages — has a counterfeit expression that reduces this spiritual mastery of the believer to fleshly manipulation and even satanic babbling.  We must not allow any holy truth to be less than intended because someone has a substitute.
ACCOUNTABILITY    
 Before we document the breathtaking realities of our security in Christ, let's note His demands for accountability.  If the sinner is accountable to repent, confess his sins, and trust Christ before he can be saved, it is inconceivable that the new man in Christ is less responsible.  The Holy Scripture is filled with warnings.  The Kingdom of Heaven is under violent assault.  Paul warned, "Wherefore, let him that thinketh he standeth, take heed, lest he fall" (I Corinthians 10:12).  Jesus said, "And ye shall be hated of all men for my name's sake, but he that endureth to the end shall be saved" (Matthew 10:22).  Luke recorded Christ's words as following: "No man, having put his hand to the plough, and looking back, is fit for the kingdom of God" (Luke 9:62).     
The Apostle Paul constantly warned believers in his epistles of the dangers of backsliding.  He said to the Galatians, "Ye did run well, who did hinder you that ye should not obey the truth?" (Galatians 5:7).  To Timothy he said, "Some are already turned aside after Satan" (I Timothy 1:19).  In his second letter to Timothy he warned, "If we deny Him, He also will deny us" (II Timothy 2:12).  His words to the Hebrews were even stronger, "For we are made partakers of Christ, if we hold the beginning of our confidence steadfast unto the end" (Hebrews 3:14).  The Apostle Paul was not ignorant of Satan's devices.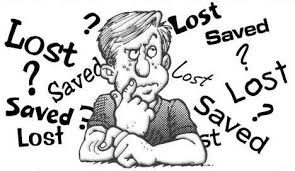 2 Peter 2
20 For if after they have escaped the pollutions of the world through the knowledge of the Lord and Saviour Jesus Christ, they are again entangled therein, and overcome, the latter end is worse with them than the beginning.
21 For it had been better for them not to have known the way of righteousness, than, after they have known it, to turn from the holy commandment delivered unto them.
22 But it is happened unto them according to the true proverb, The dog is turned to his own vomit again; and the sow that was washed to her wallowing in the mire.
SIN WILL SEPARATE    
 Biblical Eternal Security does not treat human sins lightly.  The prophet, Habakkuk, declared, "Thou art of purer eyes than to behold evil and canst not look on iniquity" (Habakkuk 1:13).  God spared not Satan nor the angels when they sinned, but cast them out of Heaven (II Peter 2:4).  Adam and Eve suffered grave consequences for their sins, although they had been created perfectly and covered with God's ethereal glory.  They were cast out of the Garden of Eden.    
 The nation of Israel was cut off from the natural root of her heritage and the Gentile world was grafted in her place because of the sin of unbelief. (She will be regrafted back into her natural tree in the near future.)  "For if God spared not the natural branches, take heed lest he also spare not thee.  Behold therefore the goodness and severity of God: on them which fell, severity; but toward thee, goodness, if thou continue in His goodness: otherwise, thou also shalt be cut off" (Romans 11:21-22).     Any doctrine that forgets personal responsibility becomes a doctrine of convenience.  The prophet Ezekiel put such thoughts to rest in His warning to the wicked: "But when the righteous turneth away from His righteousness, and committeth iniquity, and doeth according to all the abominations that the wicked man doeth, shall he live?  All his righteousness that he hath done shall not be mentioned; in his trespass that he hath trespassed, and in his sin that he hath sinned, in them shall he die" (Ezekiel 18:24).    
 The wages of sin is death, whether it is found in the man who has known God, or in the man who has never believed and trusted Him.  We are responsible creatures.  God's revelation has documented that throughout the scripture.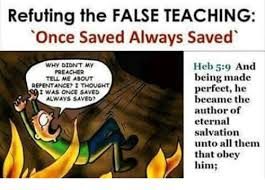 Revelation 22
18 For I testify unto every man that heareth the words of the prophecy of this book, If any man shall add unto these things, God shall add unto him the plagues that are written in this book:
19 And if any man shall take away from the words of the book of this prophecy, God shall take away his part out of the book of life, and out of the holy city, and from the things which are written in this book.
CALVARY IS OUR SECURITY     
When we understand the beauty and power of the Calvary event, there is no need for false security.  Everything necessary to get the believer to their eternal reward is amply provided.  There is no power or tribulation sufficient to destroy or render our triumph invalid.  "We are more than conquerors through Him that loved us" (Romans 8:37).  We don't need to be ushered into Heaven in spite of a victorious life when we have all that is necessary to be an overcomer.  What is the purpose of any doctrine that makes idle Christians out of believers who have such hope and promises?    
 Isaiah gave us the most descriptive picture of the cross that is in the First Testament.  "Can a women forget her sucking child, that she should not have compassion on the son of her womb?  Yea, they may forget, yet will I not forget thee.  Behold I have graven thee upon the palms of my hands" (Isaiah 49:15-16a).  The Amplified Bible records verse 16 like this:  "Behold I have indelibly imprinted (tattooed) a picture of you on the palm of each of my hands, O Zion (church)…"  The word "graven" is not used as this rendering anywhere else in the Bible.  It means to cut, to engrave, to trace, to tattoo, or to hack.  Our God actually said, I have hacked you in my hands, or even better, I have painted a picture of you in each of my palms.     
This great statement actually takes us back into the eternal past where God the Father predestined Christ, His only Son, to the cross, while at the same time, He predestined you and me to His loving fellowship.  He said, while speaking to this prophet who lived hundreds of years before Jesus, "I have graven (past tense) you."  Such truth leaves you and me with simple task of trusting and obeying.  All provision for our trusting and obeying is already provided.  To engrave suggests the creating of a thing of beauty.  He has engraved you into His palms in such a manner as to create in the provision something beautiful of your life.  It is not just positional beauty, but experienced beauty.  You can be recreated in His image.     
The Apostle Paul takes us to the next step.  We experience this beauty by looking away from the self life unto Jesus, the Author of our new life.  He said, "Looking unto Jesus, the Author and Finisher of our faith, Who, for the joy that was set before Him, endured the cross, despising the shame, and is set down at the right hand of the throne of God" (Hebrews 12:2).  When we learn to live by the Book of Faith, by constantly beholding Him as the Author and Finisher (note Finisher) of our faith walk, we move from glory to glory.  He has already finished our redemption, so our duty is to receive by abiding in Him.  All He has in redemptive grace is ours if we simply draw from the well.     On the basis of the above promise, this apostle says, "Wherefore lift up the hands which hang down, and the feeble knees, and make straight paths for your feet, lest that which is lame be turned out of the way; but let it rather be healed" (Hebrews 12:12-13).  It's faith in Him that we must express by refusing to be downcast or dismayed.  We are to choose moral and spiritual paths (straight) for our feet so that those in the way may be healed instead of wrongly influenced.  We represent His redemptive power both in our lifestyle and our witness to others.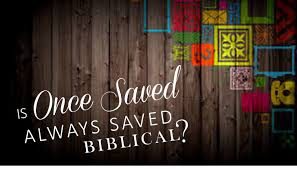 Ezekiel 18
24 But when the righteous turneth away from his righteousness, and committeth iniquity, and doeth according to all the abominations that the wicked man doeth, shall he live? All his righteousness that he hath done shall not be mentioned: in his trespass that he hath trespassed, and in his sin that he hath sinned, in them shall he die.
CALVARY MAKES US OVERCOMERS:     
Drifting into heaven is neither desirable nor possible.  It is not downstream, but uphill all the way.  One of Christ's most powerful statements was recorded in St. Matthew, "Until the present, the Kingdom of Heaven has endured violent assault, and violent men seize it by force (as a precious prize), a share in this Heavenly Kingdom is sought for with most ardent zeal and intense exertion" (Amplified Bible, Matthew 11:12).  It is clear that Jesus understood the struggle of kingdom experiences.  The victory is already won, but the overcomer must be willing to engage the enemy and press toward the mark.  There is no armor for the back.  If we turn to run, we are a sitting duck for our enemy.  He will always attack when you look back.    
 Eight times John the Revelator promised that the overcomers would inherit the favors of heaven.  He said, "He that overcometh shall inherit all things, and I will be his God, and he shall be my son" (Revelation 21:7).  What is there to fear?  Nothing but fear itself.  It is impossible for a believer to fail in this walk unless they turn from the provisions provided.  Satan cannot pluck you out of the Father's hands.  Remember, you are graven (tattooed, hacked) in His palms.  The Father and the Son are One though two distinct Persons of the Godhead.     
Biblical Eternal Security is nothing less than God's absolute promise of faithfulness and sufficiency.  "Nothing is impossible with God" (Luke 1:37).  The Lord Jesus has received all power in Heaven and in earth.  Satan is nothing but hot air.  (Don't underestimate him, but don't overestimate him, either.)  His whole strategy is intimidation.  He has already lost.  After you know you have been born again, saved, or washed in His blood, however you choose to describe it; get in the Word regularly, pray every day until you know He has heard, be in His house worshipping every worship opportunity, and you will not fall away.  It's impossible under the provisions I have described in this article.