The Lloyd's have been in Haiti since 1998 and have had many opportunities to minister to children and their families.  House of Compassion, their children's home, provides a loving environment for 36 children.  They have also started a boy's home, a church, and two schools.  EVERYTHING from their building projects to the daily care of children is funded by the loyal supporters from the United States.
(Their website has a very comprehensive view of all they are doing for God's glory, and they offer a newsletter for monthly updates.  See www.missionsinhaiti.com for detailed information.  We will put a few brief items here on this page.)
From David and Alicia Lloyd, in their words: "Haiti is a nation that has been devastated by the powers of darkness, and Missions in Haiti was started in 2000 with the purpose of setting Haiti on a different course.  We aim to do this by targeting the country's biggest need—its children.  Though the entire nation is steeped in poverty, the children suffer the worst.  Thousands are malnourished, uneducated, and headed for hopeless lives apart from Christ.  We believe the doors are still open for Haiti's children to be changed by the Gospel.  Through House of Compassion and other ministries of Missions in Haiti, we are working where the fields are ripe for harvest, making a difference in the lives of hundreds of children."
Missions in Haiti is involved in several different, yet fully connected ministries to the people of Haiti, mainly children.  These are:  The House of Compassion, the main orphanage complex where David and his family live.  Good Hope Boys Home,  Good Hope Church (for the boys home and area around orphanage) in Lizon,  Bon Espoir School in Port-au-Prince,  Good Hope school and church in Thomazeau,  and a child school sponsorship program.  WE WILL SHOW YOU SOME OF THESE IN ACTION!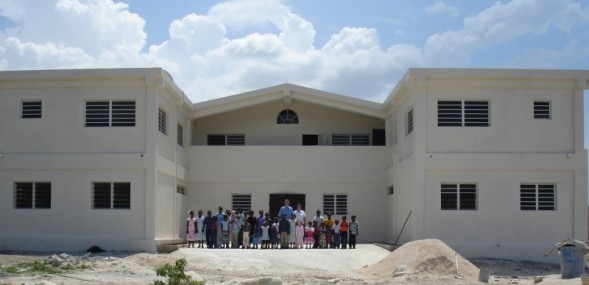 House of Compassion officially started in 2001 with our first child, Micah Dieuseul, who was about 2 years old at the time.  "We now care for 36 children—18 girls and 18 boys.  All are destined to stay at House of Compassion until they have finished school and are ready to be on their own.  In the summer of 2007 we moved into our newly built facilities with 6 bedrooms and two bathrooms."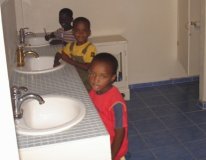 This 6,180-square foot home has two separate wings for the boys and girls, each with 3 bedrooms and dormitory-style bathrooms containing 4 showers, 3 toilets, and 3 sinks.  In the middle of the two wings is the kitchen and a large dining area.  There is room upstairs for our family as well as guest housing.  The bathrooms are nice and roomy!  What a thrill to know that through the followers of Christ, these dear children know more temporal comforts as well as learning Christ.  The bedrooms house several children each and are much less crowded than the average poor Haitian housing.  "Family" meals are a joy, especially if you are the one eating.
Good Hope Boy's Home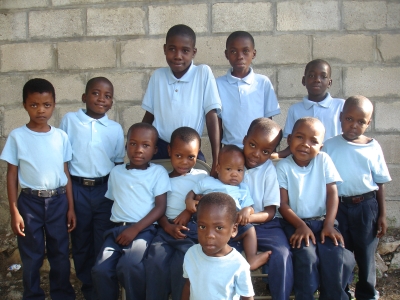 From August 2008 through September 2008, Haiti was hit by four back-to-back storms in a period of about four weeks. First Fay, then Gustav, then Hannah, then Ike left much devastation in their paths. Many mission groups immediately reached out to meet needs. Missions In Haiti helped in some of those areas also, but we felt we needed to do something to help for the long term. 
We decided to open a boys home to bring in boys who had lost everything as a result of those storm. After informing other mission groups that we were taking in boys, Good Hope Boys Home was born. It stated with 12 boys who had lost everything from the storms. We have set the maximum number at 25 boys and it has now grown to 14 boys, so we have a little room left for growth.
 Good Hope Church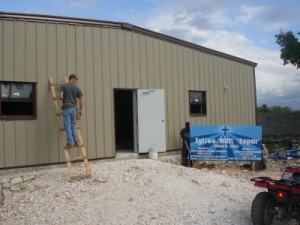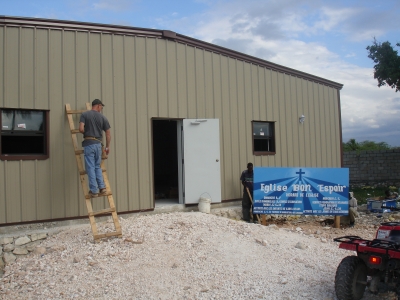 House of Compassion is located on the road Lizon in Bon Repos. After moving to the area we realized there were no immediate churches there. We began looking for a piece a property and found one just across the road from the house. We were able to purchase the 3/4 of an acre in October 2008 and by January 2009, we had a brand new, air-conditioned, 50 x 100 church building on it. It is a steel structure and it turned out to be beautiful. It is one of the nicest churches in Haiti and we are blessed to be able to worship God in it every week.
Children's Church
We have a weekly children's church program at all three of our schools. The children have a time of singing and prayer, as well as a Bible lesson. That is a total of almost 800 children learning the Word of God on a weekly basis.  Eight Hundred!  800! 
Thomazeau Ministry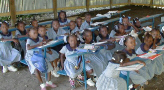 In 2003 we took Mania, the oldest child at House of Compassion, to see her family in Thomazeau (pronounced tom-a-zoh), a rural area outside of Port-au-Prince.  We were overwhelmed by the physical and spiritual needs in this area.  The children were malnourished and had no formal education.  The only religious establishment in the area was a voodoo church, and there were three witchdoctors in this community of 500 people.