***CELEBRATING 40 YEARS OF "OPEN BIBLE DIALOGUE"***
(FROM ONE STATION TO WORLDWIDE BY INTERNET)
OPEN BIBLE DIALOGUE IS ACTUALLY TOUCHING THE WORLD FOR JESUS CHRIST AND TRUTH. It is a joy to discuss the truths of the Holy Bible with people from many countries. Most of the foreign listeners hear us from the archives. As of today, January 18, 2013, there are (343) three hundred forty-three broadcasts in the archives for you to enjoy. There are many powerful Bible subjects that you can learn from and be blessed. Simply go to the home page and click on "OPEN BIBLE DIALOGUE" at the top left. You can scroll down and enjoy. At the bottom of every page is a link to "Older Entries." Just keep going for the 343 broadcasts. I wish all 40 years were in the Archives.
Here is a notice from our main radio station recognizing our history. When I remembered that I was only 37 years old when this ministry began, I must confess, it did not seem possible that this outreach would one day touch the world. My birthday is tomorrow January 19th.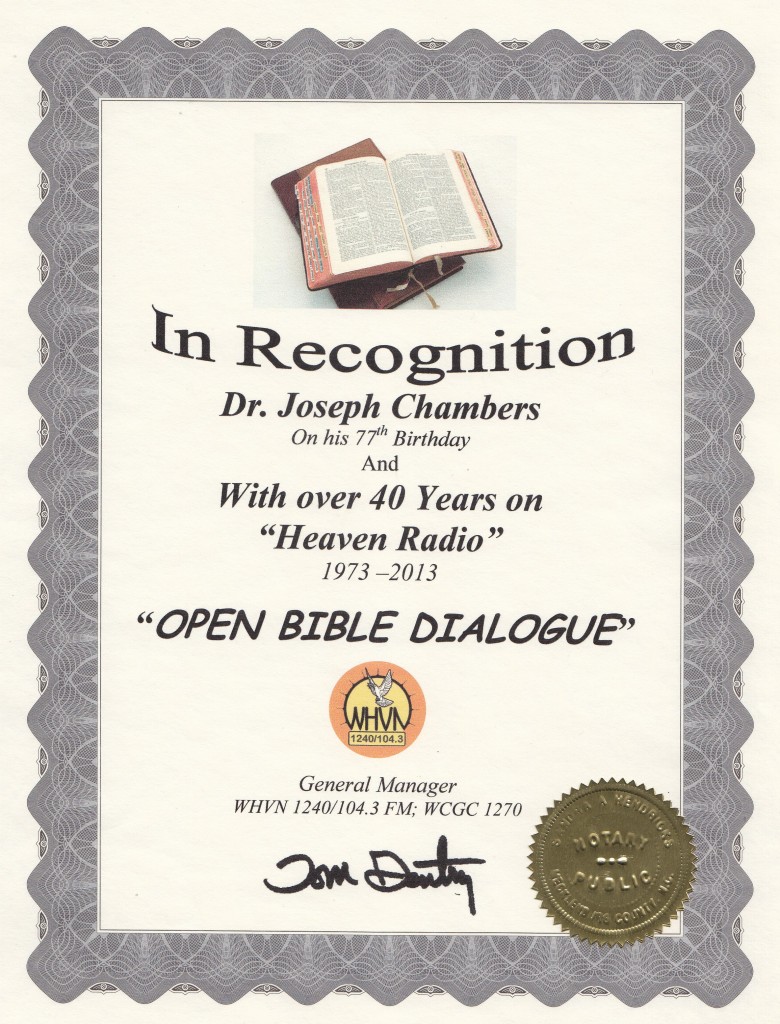 Mrs. Chambers and I have loved the privilege of blessing so many people. We would love to post a special column with your letters and comments. Please send your expressions and testimonies of what "OPEN BIBLE DIALOGUE" means to you. For anyone not acquainted with this Radio Broadcast, it is live on Radio and Internet every Saturday at 1:00 PM. (EST) There is a live stream icon on the Home page. We will also be sharing with those of you with Android Tablets or Android Phones, information about an application that will allow you to stream the radio program anywhere you are at the time.
I'm watching to see how many countries we can hear from as we celebrate this 40th year.
Joseph R. Chambers